Eskom slammed for renewable energy jibe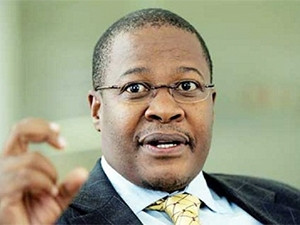 Eskom seems to have forgotten the massive input of renewable energy to SA's power needs.
This is the assertion of the South African Wind Energy Association (SAWEA), following comments made by Eskom CEO Brian Molefe, criticising renewables as having "failed" the power utility by not providing the necessary power to avoid load-shedding at the right time of day.
Environmental activist group Greenpeace also points out that renewable energy is the only technology currently delivering new electricity capacity on time and on budget to SA's constrained grid.
"Renewable energy projects have added more than 1 800MW of installed capacity to the grid in just two-and-a-half years (4% of the total installed capacity). In fact, renewable energy is the only technology currently delivering new electricity capacity on time and on budget to South Africa's constrained grid," Greenpeace says in a statement.
Molefe last month said renewables have not yet developed enough for it to perform efficiently and make a meaningful contribution to electricity supply in SA. The Eskom boss said renewable energy is in practice available from 9:00 to 15:00, which is not when Eskom needs it. Solar power is only available when the sun shines, which excludes the evening peak in winter, he noted, adding wind power is at its best in the early hours of the morning and late at night, when Eskom has surplus power.
According to Molefe, renewable energy was expected to deliver the 3 000MW of generation capacity Eskom needed to avert load-shedding, especially during the evening peak around 18:00.
The power utility has since said there will be no load-shedding this winter nor in summer.
Huge savings
SAWEA says from January to June 2015, wind energy alone saved Eskom R300 million through avoided purchases of coal and diesel.
"Between them, wind and solar energy avoided entirely, delayed, or prevented a higher stage of load-shedding for a full 15 days," explains SAWEA chairperson Heather Sonn.
SAWEA notes these figures, from an independent report by the Council for Scientific and Industrial Research (CSIR), will have subsequently increased in terms of wind energy contributed to the grid and the tariffs will have decreased significantly, as many more renewable energy projects are now providing energy to the grid.
In her recent budget speech, energy minister Tina Joemat-Pettersson hailed the government's renewable energy programme as an unprecedented success story.
She also pointed out SA is set to connect 7 000MW of renewable power to its grid by mid-2016. Joemat-Pettersson shared latest figures showing the contribution to the electricity grid from renewable energy developments in full operation is growing constantly and has now reached 16% of total energy produced in the peak periods of morning and evening in any 24-hour period.
"Four years ago, there were just 10 wind turbines in the country - now we have more than 500 turbines - 14 large wind farms in operation providing more than one gigawatt of electricity to Eskom's grid. There are many more wind farms under construction with more than 3GW in total already procured. This is a major success story for the country," says Sonn.
"In terms of cost, tariffs for wind energy in the most recent Renewable Energy Independent Power Producer Procurement Programme (REIPPPP) bidding round were close to 50% lower than those predicted for Eskom's new coal power stations."
Furthermore, she explains wind farms can typically be constructed and generating electricity in less than 18 months, in comparison with Eskom's new coal power stations which have been plagued with long delays and large overspending of budgets.
Competitive energy
SAWEA points out SA has an excellent wind resource, and more than 80% of the country's land mass provides high enough wind speeds, and therefore electricity, to deliver affordable cost-competitive energy to the grid.
"The daily energy demand profile for South Africa includes a morning peak that occurs between 05:00 to 09:00 in the morning, and an evening peak which ranges from 17:00 to 21:00," says SAWEA technical working group chairman Chris Billingham.
He notes research conducted by the CSIR shows wind speeds are usually highest during the morning and evening peak, with a midday reduction in wind speed at which point the benefits of solar PV come to the fore.
"Statistically, the wind has a far greater contribution over the evening peak. As the graph [in picture] from March 2016 shows, pick-up is normally around 15:00 and there is a rapid linear increase in wind speed until around 18:00 at which point it moderates until after 21:00 which makes it an ideal counter in terms of evening peak," Billingham says. [See graph showing wind generation during March 2016.]
In summary, SAWEA says the South African REIPPPP has successfully managed to procure 6 377MW of renewable energy to-date, and has been hailed as a global success.
It adds that wind and solar power already provides much-needed electricity to the country's grid network and the projects have been constructed on time and on budget.
"It is hard to imagine, in the context of the above, how this thriving wind industry could be considered anything other than an unqualified success," Sonn says.