Intel boasts X-ray-like vision at CES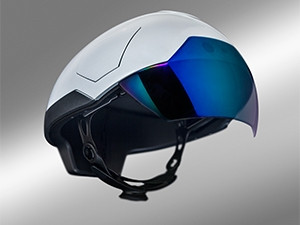 Intel is boasting a set of X-ray-like glasses at CES in Las Vegas.
The glasses take the shape of a transparent visor fitted into a hard-hat and are designed for industrial use. The project has been co-developed with augmented reality start-up Daqri, using an Intel processor and Intel's RealSense 3D camera.
The helmet uses the 3D camera to map and present real-time overlays of information, such as mechanical, electrical, and plumbing diagrams, and information about areas that need repair. In this way, the glasses allow the wearer an X-ray-like view into the internal workings of structures and machines.
The helmet's 360-degree sensors also track the wearer's movements and vision in providing instructions on how to carry out a specific task.
It can also pair up with other devices, such as smartwatches and smartphones.
The Daqri Smart Helmet has been tested by a number of Fortune 100 companies in the aerospace, construction, oil and gas industries. It will go to market in the first quarter of this year, and will fall into a similar price range as laptops with military capabilities, according to Daqri president Andy Lowery.