Cape agency builds holographic selfie booth
Local advertising agency The Jupiter Drawing Room Cape Town has built the world's first holographic selfie booth.
The Holobooth, revealed at the Design Indaba Festival 2016, is a 1m x 2m x 2m portable video booth powered by hardware and software developed in-house by Jupiter Drawing Room.
It allows people to take a holographic selfie of their face. Developed from paper to prototype in just three weeks, the company says the Holobooth is an innovative combination of existing tech, which gives people a unique way to see themselves.
The physical booth is made from strong and lightweight woods and metals that enable it to be transported and set-up easily, says Dale Imerman, digital director at Jupiter.
It features a large 19-inch touch-screen and a high-resolution low-light camera to capture video imagery. It also has LED lighting and a controller that allow a number of lighting effects to be achieved depending on a user's requirement, the theme of an event, or a brand identity.
Additional computer hardware drives the user-centric components behind the scenes, including a UPS for the booth to withstand power failures. It has a powerful server used to store, process and upload video content and control all the components.
The Holobooth comes with an Ethernet and an LTE modem for fast connectivity for content to be sent to the cloud and an SMS gateway to inform people their holographic videos are available to view.
From a software perspective, the custom-designed user interface was coded to be exposed via a browser, and the back-end system processing and uploading video is proprietary.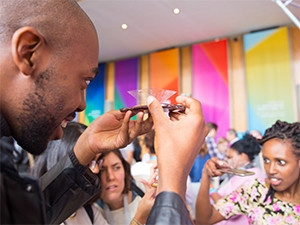 "As an agency that is more than two decades old, we are always striving to innovate and push the boundaries of creativity," says Joanne Thomas, executive creative director of design at Jupiter.
"The Holobooth project was an opportunity for us to launch a world-first digital experience by showcasing our team's growing capabilities in digital design, production, hardware and software development," she adds.
To use the Holobooth, a user steps into it and follows the touch-screen prompts to record a 15-second selfie video. The Holobooth processes the recording into a unique format, uploads it to the Web and sends a link to the holographic-selfie via SMS or e-mail.
A user then grabs a viewing prism from the booth on the way out. The company says users will need it to view their hologram selfie on a smartphone - preferably in a darkened room.
Delegates at this year's Design Indaba Festival experienced the Holobooth first hand, with 410 hologram videos being generated in a 24-hour period. This equals 13.6 hours of real-time one-on-one engagement and 102 minutes of holographic content being created.
"The booth was developed with the intention of making it available for people and companies to use at their own events," says Imerman. "Furthermore, there are mix-and-match branding options that users can utilise on the physical booth itself, the display prisms that people use to view their holographic video, as well as on the holographic video content itself."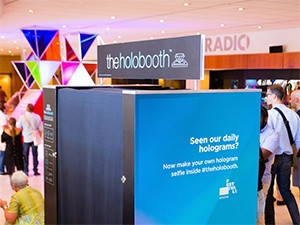 He explains this combination ensures the booth not only makes a fantastic brand impression at an event where it's being used, but afterwards when people show others their custom-created holographic content.
Lastly, says Imerman, the booth was designed to pack up into a reasonably small and portable-sized structure that is robust and suitable for both local and international transportation.
"It was not our initial intention to market the Holobooth to international customers, but given the launch at Design Indaba, we have had numerous offshore enquiries for both rental and licensing opportunities. We're hoping this translates into an opportunity that allows us to take it outside of South Africa to other continents."