Enabling literacy for an inclusive and sustainable society
South Africa is currently grappling with many socioeconomic and environmental issues that are at times out of its control. The country's incredibly low level of literacy is however a matter that can be tackled through dedication and commitment from various parties, and not just by schools.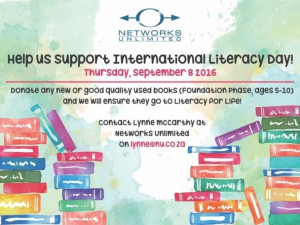 It is estimated that 60% of children in the country cannot read at even a basic level at the end of Grade 4, as reported by the Department of Economics at Stellenbosch University based on research conducted by its socioeconomic policy group. Not only that, a study by the Central Connecticut State University shows that South Africa is ranked as one of the most illiterate countries in the world, listed at number 56 out of 60 countries.
With this picture in view and in celebration of the 50th anniversary of International Literacy Day (2016), Networks Unlimited, a value-added distributor for converged technology, data centre, networking, and security technology has raised books, valued at over R500 000, targeting foundation phase learners (ages five to 10) for 'Literacy for Life', a provider of educational writing and reading aids to disadvantaged schools.
"We believe in investing in the future of South Africa's youth as they are our future business decision-makers. As a technology company, we take to market strategic solutions that safeguard and structure the future of business and we hope that our efforts will make a positive impact, however small, in the custodians of generations to come," comments Lynne McCarthy, PR and marketing executive at Networks Unlimited.
"We appreciate all the help we have received from F5 Networks, Fortinet, Mellanox Technologies, Three6Five, Angels' Hands Charity Foundation SA, Let's look Publishers, Shuter & Shooter, Oxford University Press and CUM Books in making this campaign such a success. And we welcome any additional contributions in the future."
Networks Unlimited is still seeking some assistance with collecting and delivering the books to the schools in need. For more information on the campaign and should you wish to participate, please contact Lynne McCarthy on +27 (0) 11 202 8400 / lynne@nu.co.za.