Partner with Oracle and First Distribution to offer the most powerful unified cloud solution available
Your customers need to find a service that redefines how they modernise, innovate and compete in the world today - something that allows users and developers to cost-effectively build, deploy, and manage workloads seamlessly in the cloud and on premises.
Save on IT maintenance and more with Oracle cloud services
With Oracle and First Distribution, you'll ensure that your customers have access to the best integrated cloud platform using Oracle cloud services. Oracle has a deep product portfolio across all applications, platforms and infrastructure - giving customers the freedom to build their own path to the cloud so they can spend less time maintaining and more time on innovation.
Start your journey and build your path to the cloud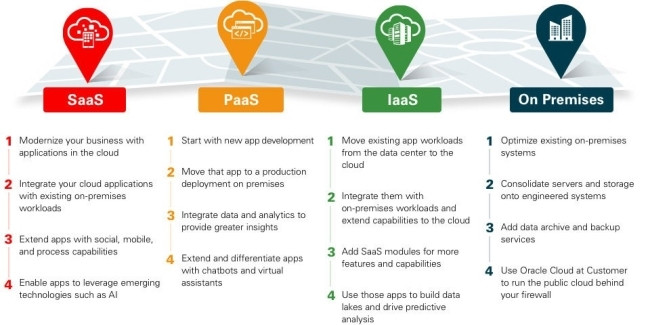 The Right tools to innovate with Oracle PAAS
Oracle's extensive PAAS portfolio offers all the tools needed to develop, integrate, monitor and secure applications, while also equipping customers to use analytics to build actionable, transformational insights.
Whether a business is just starting its journey to the cloud or it has already fully embraced the cloud, Oracle Cloud Platform has the most comprehensive suite of PAAS solutions to help increase business agility and drive innovation in the cloud.
* Connect and extend applications

* Modernise application development

* Move workloads to the cloud

* Insights from analytics

* Optimise IT operations

* Modern security and compliance
5 Reasons why you need to start using Oracle Cloud
Complete
Businesses need complete technology solutions that reduce complexity. They want cloud layers that are fully integrated to deliver a seamless experience.
Open
Oracle gives you more options for where and how you make your journey to the cloud. You can use existing skillsets, run both Oracle and non-Oracle workloads and more.
Secure
Oracle security enables your path to the cloud with layers throughout the stack that defend and protect every aspect of your on-premises, private, and public-cloud environments.
Choice
Options are important on your path to the cloud. With Oracle, you can deploy and manage apps on your private cloud or move them to the public cloud - and that's just the beginning.
Intelligent
Oracle helps you realise the value of emerging technologies, including AI, machine learning, chatbots, and more. We make these technologies easy for you to use and manage.
Start selling today by downloading our latest Sales Kit here.
For more information about Oracle Cloud, or to contact a representative, e-mail oracle@firstdistribution.co.za.