Will.i.am says the Google of Africa is still to come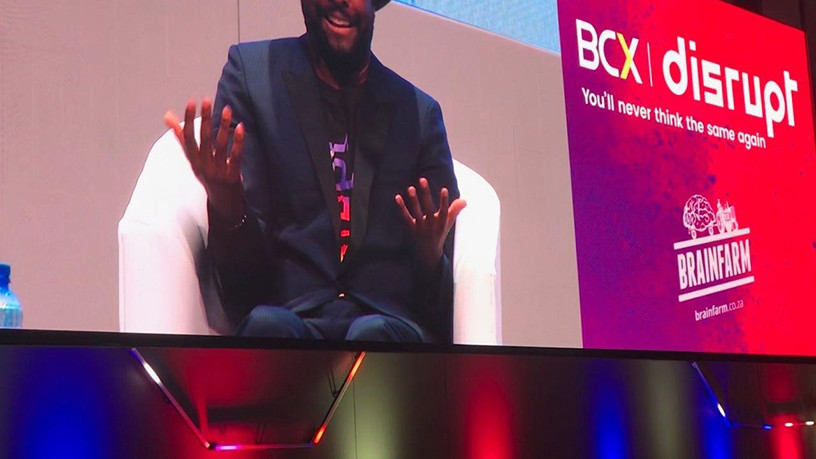 American artist and tech entrepreneur will.i.am says he keeps returning to SA because he hopes to inspire young Africans to believe they can take on the tech giants of today.
Speaking at the inaugural BCX Disrupt Summit in Midrand, Gauteng, the member of American hip-hop group Black Eyed Peas said ongoing discussions around innovation, disruption and collaboration need to be had.
Especially in Africa: "Because you don't have an Amazon here, there is no Google of Africa yet, there's no Apple of Africa yet, there's no Facebook of Africa yet, no Twitter; it's a brand new world," he said.
"And just think of all the wonderful things that are going to come from this continent in the next 10 years.
"We have seen what China has contributed, we have seen what America has done, we have seen what Europe has done, but the Southern Hemisphere hasn't contributed yet, and it's going to be amazing when you do.
"And so to be here, and be any source of inspiration to somebody that is in Kenya right now, or Uganda, or here in South Africa. A 15-year-old somewhere here is dreaming, trying to solve a problem; somebody is thinking I don't want to be like Michael Jordan, I want to be like Michael Dell; some young girl says she doesn't want to be like Stevie Wonder, she wants to be like Steve Jobs.
"Somebody is out there dreaming and they just need a couple of pushes and nudges to dare to compete with the giants. Giants can be tackled; it's about time folks on this continent aim to take them down."
Since the age of 39, when will.i.am made it into the Young Global Leaders Forum and was welcomed into the World Economic Forum community, he has been going to Davos and various other conferences every year. He has taken the inspiration and what he has learnt back to the kids in the "ghetto" that he says he is from.
Will.i.am wants to encourage this type of information-sharing and bring it to a wider audience.
Capture the moment
The artist said he always wanted to get into the tech industry and told himself early on in his career that as soon as he had some money to play with, he would start a business.
The Black Eyed Peas achieved global success when the group's song "Hey Mama" was featured on one of the first iTunes commercials in 2003.
Will.i.am said he first got into the hardware business, with Beats headphones, when he noticed a shift in how audiences in 2005 (when the first camera phones hit the market) would watch concerts with their phones in the air.
"Their behaviour changed; no one told them to do that, their natural instinct was not to watch and dance, their natural instinct was to capture.
"That really baffled me. Who told these people to put the camera up and who are they sharing with? 'Cause in 2005 there wasn't YouTube or Snapchat or Instagram, but their behaviour suggests there was some type of platform to share these photos.
"So I come home from tour and I go 'Jimmy! [Record producer Jimmy Iovine, with whom he has a good relationship] The world has changed; people are watching concerts through the lens of their camera!
"Which is crazy to me; people would rather capture a memory than have a memory."
He told Iovine that they needed to make hardware.
Iovine replied: "Well, you know how hard it is to do hardware; that's why they call it hardware!"
Will.i.am said he knew this but their music was selling other people's stuff: "We should sell our own stuff."
And so in 2007, Iovine brought will.i.am into his collaboration with Dr Dre on Beats headphones. The company was later sold to Apple for $3.2 billion.
Beyond phones
Will.i.am's new venture, Omega for Enterprise, is a voice assistant for customer service. It has already raised $117 million in venture funding.
The voice assistant utilises artificial intelligence (AI) for customer support. It is similar to Apple's Siri or Amazon's Alexa, but on an enterprise scale.
When asked for his take on AI, he said: "I'm an optimist and a creative, and because I use my imagination, I see AI as a new frontier for communication and it is going to bring about human excellence, it is going to allow us to save time, and new jobs will come.
"It's like the new Internet; the Internet took up all my time to search. AI is going to allow my data to become a magnet and attract things that are synonymous to my data behaviour because I don't have the time to go out and search the world for all the information that is going to allow me to go out there and live a wonderful healthy life.
"So I need some type of data scientist, but I can't afford a data scientist, but my AI can do that for me."
He said: "I wanted to have a personal chauffeur; now I do, it's called Uber. I wanted a house in every city; now I do, it's called Airbnb. I wanted the world's best record collection; now I do, it's called Spotify.
"What is coming next is I want to be able to data-mine the way Google does, but for me. You're going to need an AI for that."