DStv's new HD PVR decoder: 10 specs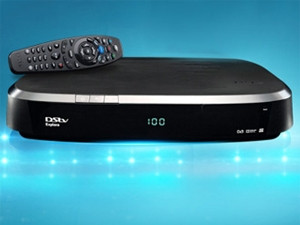 SA's first pay-television provider MultiChoice's next-generation HD decoder will be on the shelves next week.
Developed over three years, the DStv Explora has a 2TB hard drive and Ethernet connection. While no Internet-connected applications are available to customers at launch, the company says these will be made available "in the future".
The company says the idea behind the new decoder was to offer on-demand services and an interactive interface in a country where broadband is a challenge.
As well as the usual personal video recorder (PVR) features DStv customers are accustomed to, here are 10 functions the Explora brings to the table:
1. One viewing and one recording environment.
2. The ability to pause live TV for up to two hours and retain the buffer on channel change and when launching applications.
3. Revamped applications.
4. Parental control.
5. HD capabilities (720p and 1080i).
6. Dolby Digital 5.1 capable.
7. XtraView capable (compatible with all other XtraView decoders).
8. Widescreen capable.
9. Hearing impaired subtitles capable (when available).
10. HD user interface.
How the new DStv decoder compares to its HD PVR predecessor.
| | | |
| --- | --- | --- |
| | DStv Explora | HD PVR 2P |
| Price | R2 499 | R1 499 |
| Tuners | 3 Tuners | 2 Tuners |
| Coax cables | One single coaxial cable for all tuners | 2 coaxial cables for 2 tuners |
| Hard drive capacity | 2 Terabytes | 500 GB |
| Catch Up service capacity | Up to 220 hours of recording capacity | Average of 50 hours of recording capacity |
| BoxOffice titles | 20 | 15 |
| Ethernet connection | IP network connection for future use | Unused Ethernet connection |
| Software | No software loaded. Needs to be downloaded as part of installation. | Software loaded during manufacture |
| Time-shift | Retains time-shift buffers with channel change and when switching between BoxOffice, DStv Catch Up, recordings etc. | Time-Shift buffer lost upon channel change |
| Automatic scheduling | Automatically schedules the repeat event for recording, if recording is lost in conflict | No automatic scheduling of repeat events |
| Search options | Customised and advanced search options available | Basic search available |
| Panel buttons | 3 front-panel buttons | 9 front-panel buttons |
| Autotune and reminders | Only reminders | Autotune and banner reminders |
| Fast forward/Rewind speed | Fast forward and slowmo at 4 speeds, Rewind at 3 speed | Fast forward and rewind at 4 speeds, Slowmo at 2 speeds |
| Playlist view | Playlist can be viewed in movies, series and sport categories | Playlist can only be viewed as one list |
| Mute | Full mute and half mute functionality | Only full mute functionality |