Haw & Inglis selects Parity and Sage to consolidate and grow its business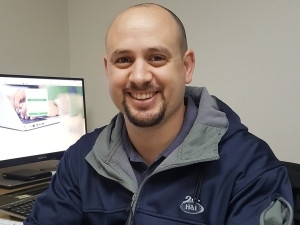 Western Cape based construction company, Haw & Inglis, has gone live with its Sage X3 and X3 People implementation with platinum Sage reseller, Parity Software. Specialising in projects of significant size and complex scope, the company, which operates throughout South Africa and neighbouring states, needed a consolidated ERP reporting and HR system, and selected Sage ERP X3 and X3 People.
Duane Chemaly, IT Manager, Haw & Inglis, said that the construction giant's ERP system was incapable of providing consolidated reporting across the Group. In addition, the HR and payroll systems did not synchronise, resulting in a manual updating process: "Aside from the vital consolidation features missing, the system lacked mobility because it only worked within Internet Explorer and was also unable to support multiple devices due to old ActiveX technology. Numerous updates had to be done due to poor software quality assurance on patches." He says that there were no customisation capabilities, resulting in external custom developed systems that needed to be separately maintained. This was extremely time consuming and took hours to create a simple custom report, according to Chemaly.
In selecting Sage ERP X3, Chemaly says that Haw & Inglis is now able to monitor data in real time across all companies and set access rights on a field and document level. BEE reports can be produced from the Sage X3 system linked to the accounts, which was not possible in its previous ERP system.
Mario Engelbrecht, Senior Sage X3 Consultant, Parity Software, says that Haw & Inglis made a very strategic decision by opting for one solution that manages all the financial intricacies in the construction industry, but also addressing the challenging people perspective: "By implementing Sage X3 and X3 People, Haw & Inglis has instant real-time costing and data analysis capabilities. Using modules like Parity Cashbook, Enterprise Asset Management (EAM) and Project and Job costing, has given the operations a toolkit to manage divisions in real time, and in turn assures the finance department always has an up-to-date view of business health."
He says that industry specific developments have given Haw & Inglis' operational users the ability to track sub-contract agreements and spending timeously, ensuring cash flow accuracy and giving project managers the tools needed to manage projects more efficiently.
The complex HR process of on-boarding labourers is now tracked, ensuring accurate organisational development and planning. Employee training course attendance and medicals are also tracked through the Sage X3 People system, and aids management in the performance management process as well as ensuring that construction regulations are adhered to.
Chemaly says that Sage X3 has enabled Haw & Inglis to successfully expand into international markets due to its multi-legislation and multiple currency solution set. The power of its consolidated reports across the group in local currency is also a big benefit: "Sage X3 is operational in each department, accounts, plant, payroll, HR and operations. This enables us to analyse information and produce management reports more effectively and in real time."
Keith Fenner, VP Sage Enterprise Africa and VP Sage Middle East, says that the full end-to-end business management implementation done by Parity Software will ensure that Haw & Inglis' is able to expand its operations, safe in the knowledge that they have the business tools to support its vision: "This implementation has been one of the most successful and has achieved some of the fastest benchmark tests in a virtual environment. It went live on 1 March and is still going strong without any downtime."
Acknowledging that ERP system implementations are always a complex process, Chemaly says Haw & Inglis selected Parity because it is a recognised, multi award-winning implementation specialist and Sage because of its customisation ability as well as being designed on a web 2.0 interface: "Sage X3 offers excellent value for money, as well as forward-thinking technology and a consolidated approach."
Video link to Haw & Inglis success story: https://www.youtube.com/watch?v=jo_SKaFhk44