MasterPass now in face-to-face environment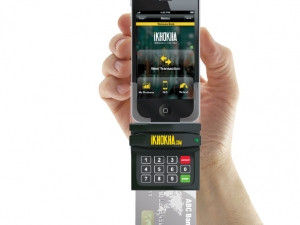 MasterCard has teamed up with South African start-up iKhokha to offer its MasterPass digital commerce platform to consumers as an in-store, card-free and cash-free payment solution.
iKhokha provides a device that transforms a smartphone into a mobile point of sale terminal, enabling merchants to process card payments, and is coupled with a mobile app.
MasterPass is a digital commerce solution, previously only available online. It allows users to make payments through their smartphones by generating a QR code. Once the QR code is scanned, payment is taken off users' credit or debit cards that are linked in their free MasterPass wallet app.
Since its launch in SA in July 2014, MasterPass has grown its acceptance network, with consumers able to pay using the digital wallet at more than 370 South African merchants, including Takealot.com, SAA, Le Creuset, Mango Airlines, and Netflorist.
MasterPass digital checkout services are now integrated into iKhokha's mobile payment application. Consumers can use their smartphones to pay in-store at over 2 000 iKhokha retailers. Most of these retailers are SMEs, such as hair and beauty salons, tourism businesses, healthcare practitioners, and professionals like lawyers.
"When shoppers choose to pay iKhokha retailers using MasterPass, they simply open the MasterPass app on their mobile device, and scan the unique QR code that is generated on the iKhokha retailer's smart device. After shoppers enter their bank PIN number or 3DSecure code and CVV/CVC number on their own device, the transaction is complete," the company explains in a statement.
MasterPass is differentiated from other similar solutions because each transaction is classified as an authenticated mobile transaction by South African banks, ensuring consumers enjoy the highest protection from fraudsters.
Anyone can use the Standard Bank and Nedbank MasterPass apps - even non-Standard Bank and non-Nedbank cardholders. MasterPass also accepts selected PIN-based debit cards such as Maestro.
The MasterPass app and iKhokha merchant app are both available from the iTunes and Google Play stores.