Vodacom confirms Deezer deal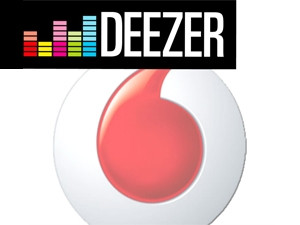 Vodacom has confirmed an exclusive partnership with Web-based music streaming service Deezer, and says the service will soon be included as a value-added service in certain of its packages - as well being bundled with data.
This follows MTN's June announcement that it would launch a streaming music service following an exclusive partnership with South African-based simfy Africa, at a cost of R49 a month.
With a catalogue of 35 million songs, Deezer has the largest digital music library available in SA. To celebrate the launch of this new service, says Vodacom, the operator is giving its 17 million active data customers one month's free subscription to the full Deezer Premium+ service.
To access the streaming service - including the one month free offer available from today - users need to register with Vodacom and download the Deezer app. Vodacom's chief commercial officer, Phil Patel, points out music can be streamed over multiple devices.
Patel says it is a "big move" to give millions of customers free access, but music streaming has yet to take off in SA the same way it has in other countries.
Once the free subscription is up, the service will be billed at R59.99 per month, or customers can choose to cancel the service at no cost. Contract customers will be billed directly to their Vodacom accounts. Prepaid users will need to top up with the equivalent amount of airtime.
Patel notes users can play music without a data connection, via Deezer's offline mode, which syncs music.
"Worldwide, the trend is moving away from ownership towards access. With Deezer, we're bringing one of the best music services globally to SA and I'm convinced this will change the way we enjoy music," says Patel.
Paris-based Deezer's chief business development officer, Cl'ement Cezard, says SA is arguably one of the most exciting music markets in mobile usage.
Deezer features

Unlimited streaming

Browse 35 million tracks, create your playlists, build your music library and listen to your favourite songs.

Multiple devices

Listen to music across multiple devices by logging on to your Deezer profile (mobile, tablet, PC/MAC, TV, HiFi, car radio).

Offline mode

Access all albums and playlists synced to your device whenever you want, even without an Internet connection.

No adverts

No adverts to ruin your listening.

Exclusive content

Listen to new albums before their official release and enter exclusive competitions to win prizes and tickets for your favourite artists' gigs.

Deezer Picks

Editor's choice of music to help you explore

Music without boundaries

Your subscription is available wherever you are by logging on to your Deezer account.

Enhanced sound quality

Standard or High Definition sound quality