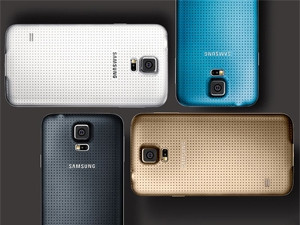 Smartphone giant Samsung's highly-anticipated next-generation flagship phone - the Samsung Galaxy S5 - has hit SA's shores, and is available as of today, from all four of the country's mobile operators.
Coming in at a price point of R10 299 (Samsung's recommended retail price), it may not be within everyone's grasp, but that will not stop die-hard Samsung fans from snapping it up.
The Samsung Galaxy S5, as well as the South Korean company's peripheral products, the Gear 2 and Gear Fit wearables, were on display for media and industry professionals to play with last night, at the worldwide S5 launch.
While the phone is practically indistinguishable from its predecessor from a hardware point of view, Samsung has added new features that improve on it - such as the Ultra Power Saving Mode, Kids Mode, a heart rate monitor and fingerprint scanner. The interface has also been improved with a couple of gestures to make multi-tasking easier.
Despite rumours that the S5 might come out in a metal version, the new phone's body is still all plastic. One notable difference is the device's back plate. Like the S4, the new phone's back cover is a thin plastic sheet, but is matte with a dimpled texture.
The S5 comes in what the smartphone maker calls "charcoal black", "shimmery white", "electric blue" and "copper gold". While blue and gold may sound like funky new additions to the Galaxy's colour portfolio, they only feature on the back of the device - which is usually cloaked by a protective cover - while the front of the phone is still the usual black.
SA specifics
Most of what consumers need to know about the Galaxy S5 was divulged at this year's Mobile World Congress, but SA-specific details were made public last night, at a launch event in Johannesburg:
1. Accidental damage from handling (ADH) premium: Samsung's new ADH premiumcovers two claims over the 24-month warranty period, including water or screen damage repairs. An additional "Smart Swop" or "Smart Pick-up" service is also included. Smart Swop allows users to receive a loan device while their smartphone is being repaired and Smart Pick-up is a door-to-door service, whereby Samsung will collect the S5 in need of repair, and return it to the owner ? anywhere in SA.
2. DSTV BoxOffice: The Galaxy S5 will be the first to offer DStv's BoxOffice app - an online movie rental service for DStv and non-DStv subscribers that offers new release and classic blockbuster movies.
3. b-there: The new b-there travel app has been especially designed for South African Samsung users. It is an online travel agency that enables customers to search, select and pay for travel products directly from their mobile devices. Products include local and international flights, accommodation options, car rental deals and travel packages.
4. nMusic: A collaboration between Samsung and nMusic allows users to access music on Galaxy devices even when the device is offline, through an automatic cache system. Users can download tracks from a database of over 20 million songs.
5. Mikz: A partnership between Samsung and Mikz allows users to create a personalised mobile shopping experience on Samsung Galaxy devices. Users can obtain news, tips, information and special deals (selected from the brands they are most interested in).
6. Lifestory: With Lifestory, Galaxy S5 customers can order photographic prints directly from their mobile device, for delivery anywhere in SA. Through a partnership with Q-Photo, Samsung users qualify for specials and discounts on prints every month, for a year.
Great expectations
While Samsung's expectations of how its new phone will do in the South African market are high, there have been mixed feelings from some of the country's "techies".
Craige Fleischer, director of mobile communications at Samsung Electronics SA, says the S5 looks set to trump its predecessor's popularity. While he was not at liberty to give numbers, he says S5 pre-orders by far outdo those for the S4 this time last year. "Where we stand today, we are expecting a much higher uptake of the new Galaxy."
Samsung's flagship smartphone range, the Galaxy S, came to market in June 2010. Since then, it has sold over 200 million units.
Fleischer says the Galaxy S3 is still available, although the company is not "actively" selling it. The S4, he says, will continue to sell and South Africans can expect to start seeing price points coming down.
Ticks and crosses
Meanwhile, Samsung Galaxy S5's biggest rival - Apple's iPhone 6 - is scheduled to launch in the third quarter of this year, and is expected to rouse just as much (if not more) hype.
ITWeb asked some of SA's "techies" what they thought about Samsung's latest smartphone offering - bearing in mind its nemesis' entry is just months away.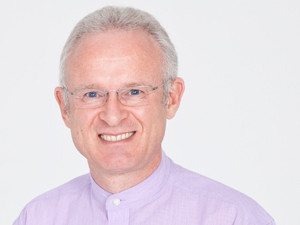 Tech analyst Liron Segev, from TheTechieGuy.com, says there are things Samsung is getting right - and others it is missing the mark on. "Samsung has a slick operation where phones are able to interact with TV and with washing machines and tablets. It is an ecosystem that stands on its own. Samsung also builds up hype before its next phone release which is superb for pre-orders."
His gripe is with the "same-old" syndrome, that Samsung and Apple have been accused of having. "When people pay a premium price for a device, they want everyone to know that they have the latest phone the moment they place it on the table.
"A concern with Samsung is that the S3, S4 and S5 visually look the same and only when you put them next to each other can you see the difference. So it's an evolution, but not a revolution.
"The same happened with the iPhone 3, 4, 4S, 5, 5S, etc. It lost its wow-appeal."
Segev says Apple is still the easiest and best out of the box experience device. "Apple allows you flexibility to make you think you have the ability to customise your device, but in reality you are very restricted. This is how they control the experience."
Tech enthusiast and editor of techgirl.co.za Sam Wright says where she is drawn to Samsung is that the company allows a lot of its functions to be made available to app developers.
"They're smart in that they partner with other brands to enhance functionality of the phone - so all the bells and whistles end up having a use in real life too."
Where the company leaves something to be desired, she says, is the plastic look of its phones and the design. "Some of the Samsung offerings are considered top of the range smartphones; I don't think the design always portrays it."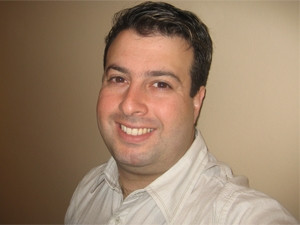 As for Apple, Wright says nothing beats iOS from a user-friendly aspect. "Yes, Android is great and Microsoft is getting there, but for me there is something 'clean' about iOS from a usability aspect. Apple always has a classy-looking design for their phones and they just look the part. They have something that works and tweak it slightly every so often.
"Saying that, I do think they need to upgrade their screen resolutions when they bring out the iPhone 6. Also having used both an iPhone and Samsung phone, while both need battery upgrades, I think the iPhone's weak battery requires one much more so."
Steven Bayhack, head of Fontera's development department Skunk Works, says although Samsung has a larger slice of the pie in SA, it does not have the same aspirational quality as Apple. "And I don't think they are getting there. They are too diverse to be an aspirational brand."
However different from each other, the two smartphone giants together are expected to enjoy the greatest part of the smartphone pie for many years to come, he says.
"[Samsung and Apple] are winning users' hearts and I don't see a Sony, Huawei or a BlackBerry changing that." Even HTC - although a good brand in the tech world - doesn't have much chance of snatching much glory from the two, says Bayhack.
World Wide Worx MD Arthur Goldstuck says Samsung appears to understand it must strike a balance between pushing the envelope of innovation and sticking with what works. "It ups screen size marginally with each device, while improving resolution and imaging dramatically."
From the Samsung S, to the new S5, the phone's display size has increased from four inches to 4.3-inches (Galaxy S2), 4.8-inches (Galaxy S3), five-inches (Galaxy S4) and, finally, to the Galaxy S5's 5.1-inch screen.
Goldstuck says this gives users an enhanced experience, without messing too much with what works.
However, the one flaw in the S5, he says, is that the increase in body size is somewhat greater than the increase in display size. "I would have liked to have seen the body remain the same size and the display pushed to the edges of the body, to give it the same increase in display size.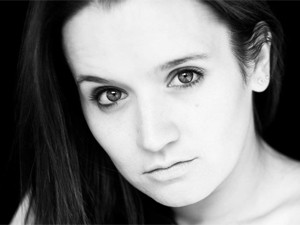 "But then again, many would have been disappointed that you can't tell the S4 and S5 apart. That was one of the main criticisms I heard of the S4 versus the S3. The fact is, the S3 was a superb device, and the S4 didn't exactly suffer from that comparison."
Goldstuck says Apple is still the leader in simplifying smartphone processes, and has created an iconic interface that transformed the smartphone experience.
"However, they then did a BlackBerry on the market, assuming that because they invented the experience, they didn't have to evolve it. The difference is that the iPhone experience is so compelling and aesthetically pleasing, it is addictive and seductive. BlackBerry could once claim the former, but never the latter.
"For most iPhone users, once they are seduced by the device, they remain seduced. For those who come to the iPhone after experiencing cutting-edge Android smartphones, the experience is more of a 'so what?', as well as surprise at the small display.
"The market has moved on, beyond the five-inch mark, and Apple now has no choice but to do the same. That means, for the first time, it is playing catch-up in smartphones. You can go on and on about the elegance of the interface, industrial design and internal processes, but the average user comes to a phone via the display, and the gap there can no longer be covered up by Apple's brilliant marketing and powerful positioning."
In terms of Android versus iPhone numbers in SA, Goldstuck says Android is expected to grow from 3.6 million active phones in June 2013, to 5.9 million by June 2014, while iPhone rises from 1.1 million to 1.2 million in the same period. Total market penetration for Samsung - feature and smartphones - is 19%, while iPhone has 2%.
Samsung Galaxy S5 specifications:
Display

5.1" FHD Super AMOLED (1920 x 1080)

Operating system

Android 4.4.2 (Kitkat)

Processor

2.5GHz Quad core application processor

Memory

2GB RAM
Internal memory of 16/32GB
microSD slot up to 128GB

Camera

HDR (Rich tone)
Selective focus
Virtual tour shot

Video

UHD@30fps, HDR, video stabilisation
Video Codec: H.263, H.264 (AVC), MPEG4, VC-1, Sorenson Spark, MP43, WMV7, WMV8, VP8
Video Format: MP4, M4V, 3GP, 3G2, WMV, ASF, AVI, FLV, MKV, WEBM

Connectivity

Wi-Fi: 802.11a/b/g/n/ac HT80, MIMO (2 x 2)

Bluetooth(R): 4.0 BLE / ANT+

USB: USB 3.0

NFC

IR Remote

Battery

2800mAh

Standby time: 390 hrs / Talk time: 21 hrs

Dimensions

142 x 72.5 x 8.1mm

Weight

145g

Sensors

Accelerometer, gyro, proximity, compass, barometer, Hall, RGB ambient light, Gesture (IR), Finger Scanner, Heart rate sensor

Google mobile services

Chrome, Drive, Photos, Gmail, Google, Google+, Google Settings, Hangouts, Maps, Play Books, Play Games, Play Newsstand, Play Movie & TV, Play Music, Play Store, Voice Search, YouTube

Additional features

IP67 Dust and water Resistant
Ultra Power Saving Mode
Download Booster
S Health 3.0
Quick Connect
Private Mode
Kids Mode