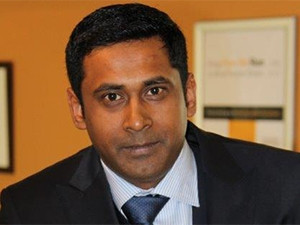 SAP Africa has appointed Lawrence Kandaswami as the new managing director of its South African business.
SAP says Kandaswami brings to the role almost two decades of management experience, having held senior positions in various South African blue chip organisations, including De Beers and Business Objects, along with many years of experience at SAP.
SAP Africa CEO Brett Parker says he is confident Kandaswami will effectively drive the company's regional vision.
"He will be responsible for executing SAP's South African strategy, and his proven track record of leadership and business acumen will greatly benefit SAP customers, partners and employees in South Africa as one of our key African markets," says Parker.
Kandaswami has been with SAP South Africa since 2008 and was most recently head of SAP South Africa's public sector organisation. During his SAP tenure, he held various leadership roles in the areas of consulting, presales, strategic customer sales, platform solutions group sales and business analytics.
"It is an exciting time to become the leader of an organisation that is spearheading digital transformation and the innovation agenda in Africa's most advanced economy," according to Kandaswami.
"Despite these challenging economic times, SAP is enabling its customers to simplify so they can operate more efficiently and simultaneously innovate, so they remain relevant and competitive in a dynamic digital economy," adds Kandaswami.
The enterprise software and software-related services company is headquartered in Germany but has locations in more than 130 countries. Subsidiary, SAP Africa, began business operations in 1982 and is headquartered in Johannesburg.