Microsoft continues feature phone legacy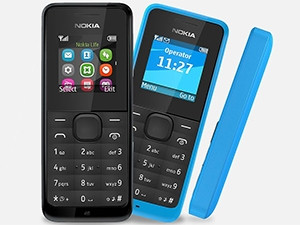 Despite the moribund state of feature phones in today's smartphone-dominated mobile world, Microsoft is still investing in the former, releasing two new devices: the Nokia 105 and Nokia 105 dual-SIM.
Aimed at first time mobile phone buyers and "people looking for a reliable backup device for their smartphone", the new Nokia 105 comes in at a price point of about R245.
The new Nokia 105 takes the baton from its predecessor, "the original" Nokia 105, which Microsoft says has sold more than 80 million units to date.
"The new Nokia 105 has everything people loved about its previous award-winning predecessor, and comes with enhanced functionality and features. [It is] now also available in a dual-SIM variant," says Microsoft.
Building on its predecessor's basics, the new Nokia 105 features expanded storage for up to 2 000 contacts, enhanced audio for better call clarity, a better battery with talk time for up to 15 hours, and up to 35 days standby time (for the single SIM model) and two pre-loaded games - Snake Xenzia and Bubble Bash 2.
The new Nokia 105 and Nokia 105 dual-SIM will be available in cyan, white and black (market dependent) and will be rolled out in select markets starting this month. Availability in the local market is yet to be confirmed.
Feature phone focus
In March, ITWeb reported that feature phones were far from obsolete - and were being invested in and innovated around.
This was despite predictions by some local analysts that feature phones may become obsolete in as little as five years, and a general consensus these handsets are on their way out, with smartphone prices falling continually.
ICT expert Adrian Schofield points out, globally, the ratio of smart to feature phones is around 30% to 70%, "which means it is extremely profitable to develop apps for the feature phone market".
World Wide Worx MD Arthur Goldstuck last year noted there were about 16.3 million smartphones in use in SA at the end of 2013. While this was originally forecast to grow to about 18.1 million by the end of 2014, growth acceleration suggested it could beat the 20 million mark ? a penetration increase from 30% to 40% in a year.
BMI-TechKnowledge director Brian Neilson puts the number of active smartphones in SA at around 23 million as at the end of 2014 - a figure that is up 23% on the December 2013 figure of 19 million. "That means nearly 30% of all active SIMs in the market are in smartphones."
Technical specs summary for the new Nokia 105 feature phone:
Device

Nokia 105 and Nokia 105 Dual SIM

Operating system

Nokia Series 30+

Display

1.45", LCD Transmissive, HighColor (16-bit/64k)

Battery

BL-5CB, 800mAh, replaceable

Talk time and standby time

Talk time: up to 15 hours (Single SIM & Dual SIM)
Standby time: up to 35 days (Single SIM), 25 days (Dual SIM)

Networks

Dual band 900/1800MHz (Single SIM & Dual SIM)
Dual band 850/1900MHz (Single SIM only)

Connectivity

3.5mm AV connector, micro USB charger

SIM

Mini SIM

Dimensions and weight

108.5 x 45.5 x 14.1mm
69.85g Single SIM & 69.55g Dual SIM (both including battery)