Samsung discusses the future of AI with leading academics, industry leaders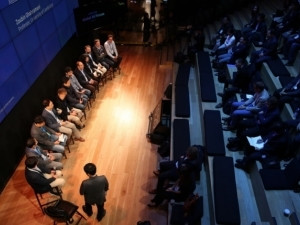 An audience of academics, thought leaders and industry experts gathered to discuss the future of artificial intelligence (AI) at an exclusive Samsung event recently. The first-ever Samsung Global AI Forum enabled leading thinkers from across the industry to share their insights, talk about best practices and investigate opportunities for collaboration.
The event took place in New York at Samsung 837, Samsung's marketing experience centre. It happened at a time when discussion around AI is increasing in importance, with the technology expected to bring about dynamic changes.
Twenty renowned scholars including Professor Zoubin Ghahramani of the University of Cambridge, Professor Barry Smyth of University College Dublin, Professor Alexander Rush of Harvard University and Professor Rob Fergus of New York University were invited to the Samsung Global AI Forum. Along with Samsung Electronics executives and staff, they talked about the major areas of AI application and how the hindrances in advanced AI algorithms can be overcome.
Please click here to read more.