More than 3 000 Samsung Smart Schools nurture the talent of tomorrow through digital education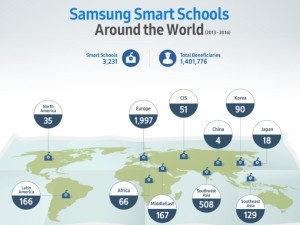 Samsung's Smart Schools work with global governments and organisations to provide classrooms in underserved communities around the world with its technologies and products, so that more students may enjoy the full benefits of a quality digital education.
So far, the initiative has supported over 3 000 schools that have allowed well over 1.4 million bright young minds to learn in more fun and interactive environments. As is the case with Samsung's Tech Institutes and other education-enriching initiatives, the ultimate goal of the Smart School programme is to level the playing field to help students in these communities thrive in the digital era.
Accessible education for all
According to the 2016 UN Sustainable Development Goals report, some 124 million children and teenagers worldwide were unable to receive a proper education due to financial costs and lack of accessibility in 2013, the latest year for which data are available. Because education is a major determinant of one's quality of life, not to mention the general well-being of a community, Samsung has made an effort to improve access to education through its Smart School initiatives.
Please click here to read more.