UTH acquires MiBRAND app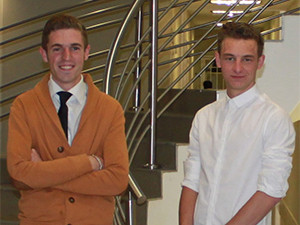 IT solutions company, Universal Technology Holdings (UTH) has acquired a 51% stake of MiBRAND, an e-commerce mobile app designed to drive consumers to brick-and-mortar stores around Bedfordview, Johannesburg.
Through the acquisition, MiBRAND, founded by Salvatore Barras (21) and Kyri Ioulianou (19) has received both funding and infrastructure for expansion.
Barras says the new partnership will give birth to a similar Asia-based platform and powerful new software designed to change the lives of consumers.
"Using our investment and newfound resources we will be focused on increasing our global footprint, starting with the launch of our mobile development branch in Asia. The expansion also stands to help us establish our identity as a global market player. In order to keep up with the demand of our clients and consumers, certain aspects of our product foundations such as analysis, high-level design, and software architecture will be expanded, but production will still take place at our Sandton headquarters.
"We want to create a household name in South African software development. The year 2017 will be a big year for us as we focus on bringing powerful tools to the market designed to challenge and disrupt the status quo. We hope to inspire more young tech entrepreneurs to follow their dreams and aspirations," explains Barras.
The e-commerce app, which recently scooped the MTN People's Choice Award, is designed to bring foot traffic to stores by providing quick and easy access to information such as retail store discounts, special offers, and events hosted by bars and restaurants around Bedfordview.
It is connected to all shopping malls in the area and it features around 400 stores. It has received over 2 500 downloads since its inception in July, after the young partners secured R1 million worth of funding and infrastructure support from a property developer in Johannesburg.
One of the biggest growth points added by the UTH acquisition, continues Barras, is the aggressive expansion of the team, which has grown by ten developers.
"This is a huge stride for a development firm to have accomplished in under a year. When we first founded the app, one of our biggest challenges was scalability, we didn't realise the rate at which the expansion was going to come in and it was tough to keep up with the workload during the course of the year. When business expands you have to have the correct infrastructure in place to effectively manage the growth," he points out.
The young entrepreneurs say they will be announcing a new product, designed to revolutionise e-commerce on a global scale, early next year, as well as their next launch of MiBRAND with one of South Africa's biggest shopping mall groups.