Integr8 wins Veeam project award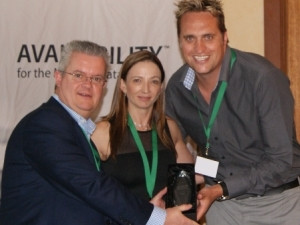 Integr8 has won Most Significant Project of the Year award from Veeam, a provider of solutions that delivers availability to data centres. Veeam leverages virtualisation, storage, and cloud technologies that enable the modern data centre to help organisations save time, mitigate risks, and dramatically reduce capital and operational costs. Veeam currently has 29 000 ProPartners and more than 135 000 customers worldwide.
The Most Significant Project of the Year award recognises and rewards the partner which identified, managed and successfully closed the largest project in 2014.
Mpact, formerly Mondi Packaging South Africa, is one of the largest paper and plastic packaging businesses in southern Africa, with 31 operating sites, 24 of which are manufacturing operations, based in South Africa, Namibia, Mozambique and Zimbabwe. Integr8's project for Mpact saw Integr8 implement Veeam Backup Management Suite, Enterprise edition at the company after its previous solution came up for renewal.
Integr8 recommended Veeam to Mpact and, after a successful proof of concept, the project went ahead.
Veeam Backup & Replication provides powerful, easy-to-use backup, recovery and replication features that deliver availability for the Modern Data Center to support Mpact's DR strategy and enable an always-on business, says Bennie Strydom, Chief Sales Officer, Integr8. "Recovery speed and reliability improved dramatically when Mpact deployed Veeam Backup & Replication."
Says Strydom: "We were able to deliver fast, granular recovery, verify recoverability of every backup and replication, and support frequent DR testing and an always-on business at the client - which is what we had set out to achieve."
Additionally, Veeam is a much easier product for Mpact to deploy and manage compared to its previous solution. Data backup and recovery time have been dramatically reduced, and Veeam has reduced the amount of tape required for offsite storage due to its de-duplication technology.
"Rapid recovery was part of the business requirement when MPact was looking at investing in Veeam. The customer runs a full-blown Microsoft Hyper-V environment, so the Veeam Availability Suite helped to show the quick recovery of data, bringing the recovery point objectives down to 15 minutes. As part of the version 8 suite, Integr8 recommended that Instant VM Recovery, Veeam Explorer for Microsoft Exchange, SharePoint, SQL Server and Active Directory was installed to allow these instances to be restored in less time and with less effort. Additionally, Integr8 also recommended the installation of Veeam Replica, which enhances WAN acceleration, replication from backup and one-click site failover with support for planned failover from head office to the primary data centre. The product works well, and from a branch perspective, allows the onsite team to offset to removable drives and tapes," Strydom notes.
Says Lisa Strydom, Veeam channel manager: "Integr8 is seen as a strong Microsoft partner and we have worked with them over the past year to build on their Veeam skills. We engaged with the sales team at a fairly large enterprise customer which leverages Hyper V as its hypervisor platform of choice. This was a significant win for us as we displaced our competition yet again, and at a Hyper-V level. This again cements our status as the number one data protection solution for the modern data centre."