Developers widen repertoire of Pepper the robot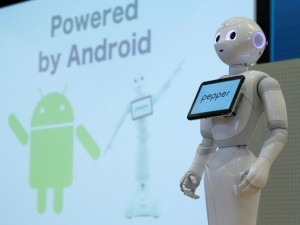 Japanese developers of a robot are asking the public to come up with ideas for what their waist-high humanoid can do and they are offering a software development kit for programmers to get creative.
The fast-selling robot, known as Pepper, can already laugh and serve coffee and is being used as a waiter, salesman and customer service representative in about 500 companies in Japan, including Nestle, Mizuho Bank and Nissan.
Now its creator, SoftBank, has started offering a kit, Pepper SDK for Android Studio, that will allow programmers to develop new tasks.
The offer comes ahead of the July pre-sale launch of the robot in the US.
Pepper, which costs 198 000 yen ($1 800), has been in high demand in Japan. The first six batches of the robot, each averaging 1 000 units, sold out in less than a minute.