Saratoga wins Digital Transformation Project of the Year Award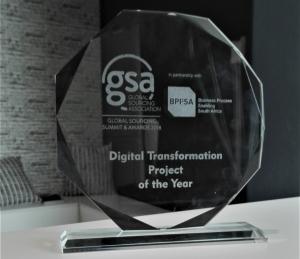 The Saratoga team recently attended the 2018 Global Outsourcing Awards as part of the GSA Global Outsourcing Summit, and the company was honoured to win the award for the Digital Transformation Project of the Year.
Saratoga received the award for a digital transformation project it has been working on with one of its international clients, Stewardship.
With a network of over 15 000 charities, Stewardship, a London-based organisation, facilitates donations of more than £70 million yearly. The organisation operates as a donor advised fund, taking donations from givers and claiming their tax rebate under the UK's Gift Aid scheme.
"The award is a validation of the innovative solutions built by the team and a justification for the hard work and effort put into delivering such a product to our clients. We were privileged to have been shortlisted and included in the award ceremony, surrounded by some of the big names in the industry and to have been recognised in this way. Well done to the team and to everyone who has had a hand in helping us to do what we do for our clients," said Neale Evert, Operations Manager of Technology Consulting at Saratoga.
Stewardship needed a partner that would best help it realise its software development strategy by minimising costs, maximising quality, bolstering security, and decreasing software delivery time. The overall partnership approach anchored on shared organisational values, and transparent communication channels, and these guided Saratoga in setting up an efficient offshore-outsourcing relationship with Stewardship.
"Stewardship is an organisation which aligns closely with our values and our intent to make a real difference in people's lives through technology. We are delighted to be able to work with the Stewardship team on an ongoing basis and are really pleased that the success of this collaboration has been recognised through this award from the GSA," said Mark Gebhardt, CEO at Saratoga.
Working with a remote team has its challenges, one of which is often that of ensuring clear, unambiguous communication. To combat this challenge, the principles of agile software development and collaboration were adopted. Saratoga consistently delivered high quality and flexible software development approaches that matched Stewardship's software development strategy.
"Saratoga handled the architecture and design all the way through to the front-end development. Their commitment to the project meant that we went live on the exact day we had committed to nearly a year before. The performance and stability of the new system is rock solid. We will be building all future giving services client-facing products on this API," said Grant Owens, Solution Architect at Stewardship.
This Digital Transformation award confirms Saratoga's position as a leading provider of outsourcing services to both local and international clients, and its approach of partnering with its clients was a large factor in the success of the Stewardship project. For more information about Saratoga's outsourcing services and other key service offerings, connect with the company at www.saratoga.co.za.