Talksure recognised at prestigious contact centre ceremony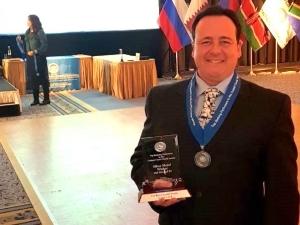 Talksure continued its success from 2017 by winning Silver at the 2018 Contactcenterworld.com EMEA (Europe, Middle East and Africa) Top Ranking Performers Awards Gala. The ceremony was held in Germany, at the Hotel Palace Berlin, on Thursday, 10 May.
For the second year running, Talksure has been recognised for its best practices in the contact centre industry. This year, Talksure competed in the category of Best Contact Centre: Large (Outsource). With over 100 companies from across the region participating, competition was tough.
The accolade serves as an acknowledgement of Talksure's commitment to high standards of service and quality. It also recognises the tireless efforts and calibre of its employees. "Being recognised yet again as one of the best contact centres in the EMEA region is remarkable. This award speaks volumes about what Talksure is aiming to achieve. We are proud to be identified as a leader in the industry as well as representing South Africa on an international stage," said Jacques de Beer, Managing Director of Talksure.
Head of Sales, Sean Moss, who represented Talksure, summarised the entire conference in one word, calling it "excellent". Moss went on to say: "The conference was an amazing combination of passion, skill and dedication; it is a privilege to work with and learn from some of the best leaders in the world. Every day I took away great insights and ideas of how we can better our company, employees and customer journey."
The 2018 Regional Top Ranking Performers Awards saw nations from across the EMEA region take part. Contactcenterworld.com is the world's largest contact centre association, with over 200 000 members in 200 countries. Established in the UK in 1999, Contactcenterworld.com helps professionals and companies through training, education, best practice conferences, awards and engagement measurement tools for customers and staff. The global best practice conference and awards will be hosted in Prague from 5 to 9 November 2018.