Profile
Trustlink provides B2B IT solutions where solutions = products + services + innovation
Trustlink moves and translates data.
We enable the secure and reliable exchange of information, including payment instructions, corporate and customer information and operational data.
Trustlink strives to provide optimal value to our customers. By building long term professional relationships with our customers we develop an understanding of their environment, challenges and requirements in order to assist them to meet their demands. The nature of our products and solutions means that they make up critical components of our customers business practices and infrastructure, firmly entrenching us as a value added service provider.
Trustlink provides integration solutions
We provide solutions that enable the integration of business processes with those of the trading partners, suppliers, customers and service providers.
Trustlink provides value added services to the data flow
We provide a range of data services such as translation services, AML services and recon services. The compliance and regulatory solutions that we provide assist customers to face global and domestic challenges with regard to KYC and other regulatory changes.
Trustlink offers cloud services (SaaS) on the leading Hosted Services bureau in Africa
The service bureau provides hosted and managed solutions and services and is regarded as a leading SWIFT service bureau globally. In addition to SWIFT, we offer hosted value-add services for data such as translation, AML, and filtering.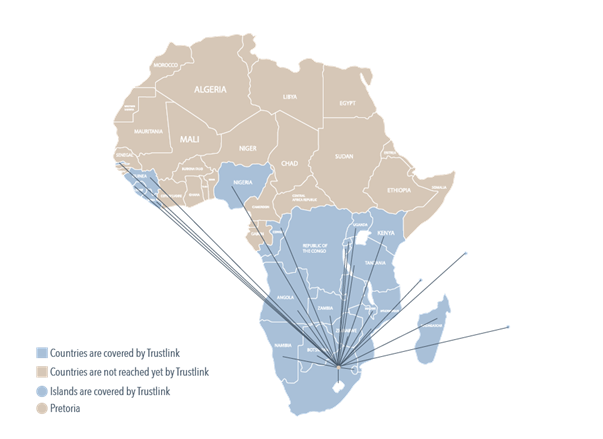 How do we do this?
The right partners
Trustlink has consciously entered into alliances with suppliers that are recognised global leaders in their respective fields, that have a sound international customer base and that offer best-of-breed products which adhere to international standards. We are a regional representative for Axway, Vix Verify and Visions Solutions. We are an IBM Premier Business partner and the SWIFT partner for Western, Central and Southern Africa. These partnerships were specifically chosen for their interlinking benefits to us and our customers.
The right solutions offering
The Trustlink product range has grown organically over the last 17 years. From our roots as Perago and involvement with central and commercial banks implementing real time gross settlement systems, we have come to understand the importance of secure trusted movement of data. We therefore became the SWIFT business partner in our region. From there, each business partner and product as added to our value proposition based on a need we identified in our region, sub-Saharan Africa. We are not a "me too" we understand the business of our customers, the African economy and challenges and what we need to do to ensure our customer's success and operational excellence.
The right people
Trustlink has a pool of qualified, and where appropriate certified, sales, support, implementation and technical staff. These valued individuals are developed continuously in line with the growth of the business and customer demand.
The right credentials
Trustlink strives to provide our customers with professional services that meet the highest standards. We consciously enter into certification programs to ensure that we maintain the skills base and implement practices and procedures to meet the services levels expected by our suppliers.
Trustlink adheres to the ISO 27001 standards, which specify the requirements for establishing, implementing, operating, monitoring, reviewing, maintaining and improving a documented information security management system within the context of the organisation's overall business risks. Trustlink is a member of ACTSA and has also been authorised as a System Operator in terms of the National Payment Systems Act by PASA.
Trustlink is committed to the social and moral imperatives of broad-based black economic empowerment (BBBEE) and is a level five contributor.
Contact
Glenfield Office Park
PO Box 41407
Support Desk
supportdesk@trustlink.co.za