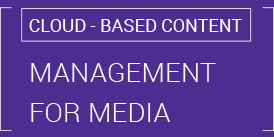 Register
Wednesday 14 July 2021 | Online
A complimentary ITWeb Webinar brought to you in partnership with First Distribution, AWS & RelianceCloud
Discover the better way to store and distribute media content
With the ever-increasing volumes of content being generated globally, the requirement for media companies generating vast amounts of files can make the process of delivering, storing and accessing this content challenging.
First Distribution, in collaboration with RelianceCloud and ITWeb, invites you to this webinar to discover how to digitally transform your media house and harness the tools built and hosted by AWS Partners to transfer, store and distribute media content simply and cost effectively.
Find out how to transfer content using UDP acceleration and then store it in elastic on demand AWS enabled services such as Amazon S3 and Amazon Glacier take the pain out of the whole process.
See the simplicity of Amazon Object storage for Media Companies in action, learn more about the enhanced security in Amazon S3, which supports controlled access and the transfer of data on SSL, and discover how to achieve –

Scalability

Ease of integration

Reliable and durable data storage
Discover why AWS is the leading choice for broadcasters, with over 1,600 channels worldwide originating from the AWS Cloud using an unmatched portfolio of purpose-built AWS services and appliances, along with partner solutions, to run low-latency broadcast workloads with greater agility, elasticity, scalability, and reliability than anywhere else; and hear how RelianceCloud with AWS helps you achieve on demand access to the cloud and supports your migration and general media storage requirements.
Why should you register your complimentary slot?
Learn how to build the foundations for digital transformation
Discover the tools and capabilities of AWS cloud
See how to achieve better, more cost effective storage and content distribution
If you are a technology or business decision maker in the media, broadcasting or entertainment sector, this event is for you!
Media, entertainment and broadcasting; Production companies; Post production companies; Public Sector telecommunications companies
About First Distribution & AWS
First Distribution has been an AWS distributor for more than 4 years and in that time has been recognized as the Pioneer between all of the EMEA distributors. As an AWS distributor we have two key functions, enabling and growing the Amazon Partner Network while creating general market awareness. We do this by taking partners through the APN Journey, assisting them to understand how they can build a business on AWS.
Learn more at www.aws.firstdistribution.com

RelianceCloud is a technology provider for media companies. Through our partnership with Amazon Web Services, we offer scalable technology platforms that reduce cost and risk, allowing media companies to focus on creating content and growing their business.
Learn more at www.reliancecloud.co.za