Lenovo bets on 'good-weird' tablets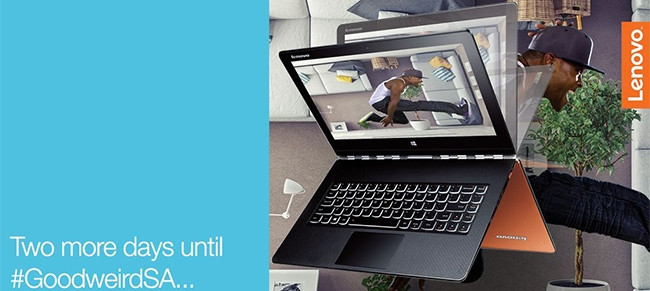 Research shows South Africans are no longer going for high-end tablets, instead opting for more affordable tablet devices.
As the quality, design and end-user experience of low-range tablet devices improves, so has the appetite for these devices among South Africans.
However, the trend towards buying cheaper tablet devices has not deterred technology company, Lenovo, which yesterday unveiled the latest line-up of its Yoga tablets: the Yoga Tab 3 Pro and Yoga Tab 3. It also introduced the Phab 8 phablet.
Monique de Klerk, marketing manager for Africa at Lenovo, says the company's Yoga tablet products form part of its "good-weird" range. She references the new products' ability to be twisted and/or hung on a wall via a built-in hook, as examples of the devices' good-weird appeal.
"Yoga is our hero product. It is the brand and franchise where we are taking our innovation and innovative features and benefits to another level."
According to De Klerk, these new features set the tablet devices apart.
Graham Braum, GM of Lenovo Africa, says: "Unless you innovate daily, you cannot win in business." This is Lenovo's new strategy with the Yoga range, he says.
The Yoga Tab 3 Pro features a built-in 70-inch projector, four front-facing JBL speakers, and comes loaded with a Netflix app to deliver personalised recommendations and content. It is expected to retail for $499 (R6 716).
Cheap appeal
The latest figures from the International Data Corporation (IDC) reveal the increase in sales of low-priced tablets in SA is responsible for the strong year-on-year growth of 56% in the tablet market in Q2 2015.
According to the IDC, tablets priced below $150 (R1 965) accounted for 60% of the total market in Q2 2015, an increase of 7% from Q1.
The IDC expects South Africa's tablet market to continue growing throughout 2015, spurred by strong demand for low-priced tablets.
ICT analyst Adrian Schofield notes the tablet market has matured and there has been a spurt of low to mid-range products that has met most of the recent demand.
"The market for hybrid devices, combining a laptop and a tablet, is restrained because the prices tend to be higher and the users have not been convinced there is sufficient differentiation from owning the two separate devices."
Price point
Steven Ambrose, ICT analyst and CEO of Strategy Worx, says although the Yoga tablets are being pitched at the high end of the market, the price is not high in comparison to other tablets.
"If I had a specific need for a tablet with a projector, I would buy it, and it does have a place in casual home entertainment, as well as presenting in small groups in business.
"I think Lenovo will be pleased with reasonable sales as these are not volume products," he says.
While Lenovo is the number one PC brand in SA, Ambrose believes it must address the entire spectrum of devices that consumers and businesses may want.
"Focus is vertical-driven not form-factor-driven; they need to offer a competitive range to each area of their business and push for dominance in each of these areas. Lenovo seems to be doing a good job in this regard," he says.
Tablets available in South Africa:
| | | |
| --- | --- | --- |
| Make | Model | Price |
| Apple | iPad Air 2 | R7 899 |
| Samsung | Galaxy Tab 4 10.1 | R6 999 |
| Sony | Xperia Z4 Tablet | R9 130 (Orange) |
| Huawei | Mediapad 7-inch Youth 2 | R2 096 |
| LG | G Pad 8.0 | R3 205 (Orange) |
| Lenovo | Yoga Tab 3 Pro | R6 716 |
| Alcatel | OneTouch Pixi 7 | R950 (Orange) |