The digital transformation era is here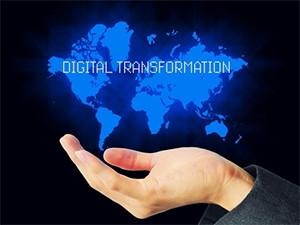 The surge in demand for digitisation in SA enterprise businesses over the coming year will have massive implications to how employees work and interact with colleagues, family and suppliers.
This is according to John Tadman, country manager of Avanade South Africa, who notes the digital transformation (DX) era has been promised, but now it's here.
In 2016, South African companies will recognise the need to move beyond basic employee collaboration tools like e-mail, and instead embrace a true digital workplace to drive continued productivity and competitive advantage, says Tadman.
Sandra Ng, group vice president, practice, IDC Asia/Pacific, says in 2016, there will be a mega transition in the digital transformation era.
Enterprises will commit to a massive new scale of digital transformation and 3rd platform technologies in order to stake out leadership positions in the hyper-digital economy, she adds.
"By 2020, enterprises pursuing digital transformation strategies will more than double their software development capabilities; two-thirds of their coders will focus on strategic DX apps and services."
Over the second half of this decade, it will be a case of 'digital or die' for organisations seeking to improve productivity, increase agility, and differentiate from competitors, says Tadman.
He notes many organisations have embarked on a digital transformation journey to improve customer engagement.
Over the coming year, organisations will focus on bringing together user-friendly social, mobile, analytics and cloud computing technologies to create a digital workplace that senses and responds to the information needs of individual employees - anytime, anywhere, and on any device, he adds.
"At Avanade, we are seeing these predictions becoming a reality for our clients, with digitisation an irresistible force that is driving companies to rethink their response to markets and reshape their operations," says Tadman.
However, a key reality in SA is that many of its organisations are faced with legacy systems and given the investment that has gone into creating these systems, there is an incentive to maintain them, says Lise Hagen, research manager IT services and software at IDC.
Today's technology leader can no longer just be a leader in technology, they have to be a leader in business. They have to be able to assess what is transitory and what is here to stay, she adds.
Organisations must start embracing a blended workforce that comprises humans, data and intelligent software working together, says Tadman.
"A blended workforce will automate many of the manual, transactional processes that humans perform today, but we need not fear that humans will become obsolete.
Instead, with an emerging 'battle for brains' and war on talent, a blended workforce will free people to concentrate on critical business issues and innovation."
"As we move into what Gartner is calling the 'Algorithm Economy', South African organisations will need to transform to a digital workplace that senses and responds to the information needs of individual employees, in order to remain competitive and attract the best talent in a connected world."