Sanral chases after fleet-based companies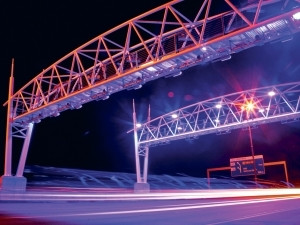 The South African National Roads Agency (Sanral) will pursue fleet-based companies that have the highest outstanding e-toll bills.
The roads agency has R5.9 billion in e-toll fees outstanding at the 60% discounted rate in terms of the new dispensation announced by deputy president Cyril Ramaphosa in May.
Last week, Electronic Toll Collection (ETC), a service provider to Sanral, said a private fleet-based company had an outstanding e-toll bill in excess of R20 million, the largest debt built up on the Gauteng Freeway Improvement Project e-toll system.
Mark Ridgway, chief operations officer of ETC, claims a number of JSE-listed companies had not disclosed their e-toll debt to their shareholders.
However, the Opposition to Urban Tolling Alliance (Outa) says chasing after fleet-based operators is a ploy to try and save the e-toll scheme.
"Following a month of Sanral's dispensation, which offers discount on outstanding e-toll debt, the uptake has been dismal and all indications are that this carrot will not be the saving grace for the ill-fated e-toll scheme," the alliance says in a statement.
Sanral recently introduced a 60% discount on historical e-toll debt in arrears. To qualify for the 60% discount, users must settle their bills within six months - giving them until the end of April 2016 to pay up.
Outa's message to all fleet-based companies is that there is no need to fear the approach by ETC or Sanral's collection agents, as the e-toll scheme has been introduced unlawfully, the alliance says.
Outa believes outstanding e-toll bills are related to an unjust and irrational law, which makes it unnecessary for business to worry or disclose this amount as a debt to shareholders, it adds. In Outa's opinion, e-toll bills are not a debt, says chairperson Wayne Duvenage.
One has to ask why, after two years of operation and over R6 billion outstanding bills (after Sanral's discounts have been applied), no one to date has been issued a summons for non-payment of e-tolls, Duvenage notes.
"We believe this is because they have no case and without a legal channel of enforcement, their strategy is limited to carrots and intimidating messages to coerce the public into submission. We have been preparing for this for years.
"This time around, the technical defence that got Sanral off the hook in 2013 is no longer applicable. The real merits of the case are going to have to be heard and we maintain the entire scheme is unlawful and irrational," says Duvenage.
"In addition, virtually all the issues we warned Sanral about, regarding the weaknesses, irrationality and unworkability of the scheme, have materialised. The Western Cape toll challenge has also strengthened Outa's case in Gauteng."