Thieves target Gauteng's digital classrooms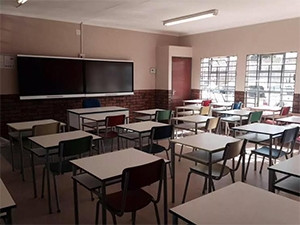 Efforts by the Gauteng Department of Education (GDE) for a "paperless classroom" education system are being dampened by thieves.
The GDE has revealed more than 100 smartboards have been stolen from schools since the rollout of the ICT programme in July 2015.
"Of these, 29 were stolen in Johannesburg central; 20 in Tshwane south; 18 in the north of Johannesburg; 17 in Johannesburg south and 14 in the west of Johannesburg," says the GDE.
However, the department noted it is making strides to recover stolen smartboards.
Last year, the GDE began the switch from chalkboards to smartboards by equipping Gauteng schools with interactive boards, as well as providing high-speed broadband connectivity, laptops, e-content and tablets to grade 12 learners.
The department purchased 1 800 3D LED interactive boards, which were installed in grade 12 classrooms in 377 schools across the province.
This "paperless classroom" project saw last year's matric learners move from using traditional learning tools to smartboards and receive tablet devices to better their learning experience. According to the department, it distributed 64 000 tablets to grade 12 learners in 2015.
Can't let go
The department has been upfront that theft is a major stumbling block in its efforts to provide an ICT-focused education system in the province.
MEC Panyaza Lesufi previously said it's unfortunate the department's ICT strategy comes with its challenges.
Some 8 000 tablets have been reported stolen, according to Lesufi. The GDE also pleaded with last year's matric learners to return the more than 4 000 tablets that are still outstanding.
Lesufi stated government has noticed learners going to university find it difficult to return the tablet devices because they have found them quite useful during their matric year.
The department also noted it is making strides to recover outstanding tablets that are still with learners.
Ambitious plans
Gauteng has committed to invest R7 billion in ICT in education over the next four years, according to Lesufi.
He said R5 billion of the investment will come from the Gauteng government, while the remaining R2 billion is expected from partnerships with private sector organisations.
The GDE wants all Gauteng learners in no-fee-paying schools to each have a tablet device for educational purposes by 2017.
The department is also driving its online admissions process. For the 2017 schools admission campaign, Gauteng education will ensure the online application goes live on 5 April 2016, said the department.