Public private partnership between FMT, NMMU takes maths and science to scholars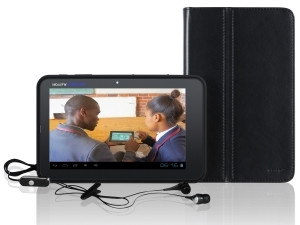 Public-private partnerships are key to enabling service delivery in South Africa, a fact recognised by business and government. In fact, the need for such partnerships in the education sector was highlighted in government's pivotal National Development Plan, a blueprint for getting South Africa on track for stimulating growth and development and creating jobs by 2030.
Sizwe Nxasana, CEO of First Rand, said in order to solve South Africa's education crisis, the country needs an active citizenship. The National Education Trust, a public-private partnership, plans to pilot new ways of learning and teaching that includes improving materials used by learners, particularly where technology is concerned.
President Jacob Zuma himself has spoken of the need to forge "partnerships to bring together the resources and expertise of the public and private sectors" to aid service delivery and development.
South African tech company, Future Mobile Technology (FMT), has teamed up with the Nelson Mandela Metropolitan University's Govan Mbeki Maths Unit to develop and market the technology needed in the drive towards better results in maths and science. In 10 years,South Africa's goal is to see over 450 000 matriculants able to get into university to study these subjects instead of the 120 000 now.
"The result of this partnership is the netsurfer SCHOLAR, a tablet developed by FMT that comes embedded with 183 hours of preloaded CAPS aligned maths and science educational content developed by the NMMU's Govan Mbeki Maths Development Unit," says FMT joint CEO, Tracy Andersson. She says embedding the content on one of the netsurfer tablets means students in remote areas or lower LSM households without broadband at home don't need to go online in order to access the learning materials.
Graham Davies, joint CEO of FMT, says the company believes in harnessing for the collective good the talents of public and private sectors. "Our partnership with the NMMU is a great example of this kind of teamwork," he says. "The university had spent five years developing this fantastic content and because they rely on grant funds and aid from blue-chips or NGOs to make it available to learners and teachers, it was limited in scale and was only benefiting a select few.
"Our public-private partnership with the NMMU is a first of its kind in South Africa. We approached the NMMU with our commercial model that ensures its continued success and that it is both scalable and sustainable. Profits are re-invested to ensure that content is kept up to date, functionality is continuously improved and it is available on a national scale. However, as this was something new to both parties, it took six months to finalise the exclusive commercial agreement," Davies explains, "and a further 12 months to develop the menu-driven content management and encryption application, and commercialise the product."
Professor Werner Olivier, head of the Govan Mbeki Mathematics Development Unit at the NMMU, said partnerships between private and public sectors "can play a pivotal role to ensure that potential educational benefits of cutting-edge technologies are made accessible to aspiring school learner communities".
Professor Olivier believes that, as in the rest of the world, "tablet and mobile technologies combined with quality teaching and learning material could play a critical role to bring content-rich virtual classrooms closer to the brick and mortar classrooms.
"Innovative learning platforms that could render independent maths and science learner scaffolding support in South Africa are vital. Especially if viewed against the background of the teacher crisis and lack of access to quality maths and science resource materials in many schools," he said.
FMT's corporate social responsibility bent is to close the digital divide that exists between South Africa's few 'haves' and many 'have nots'.
"It's hugely important to redress the inherent imbalances in our education system," says Andersson. "That's why we've invested in creating technology for the mass market, and actively sought ways of using that technology to boost education."
Davies concurs: "Technology should help level the playing field, not increase the gap between learners in urban areas and those in rural schools. The pilot study carried out by the NMMU has proved this product works."
The netsurfer SCHOLAR maths and science content is CAPS-aligned and is based on the National Curriculum Statement (NCS) for grades 10, 11 and 12. It features term-by-term video lessons, experiments, workbooks, solutions and past exam papers taught by highly qualified mathematics and science professors and teachers. Students can pause, rewind and watch the video lesson as many times as they wish.
The netsurfer SCHOLAR has been launched nationwide with The Foschini Group and comes preloaded on FMT's netsurfer Pro 7-Inch Tablet; a high-spec, embedded 3G tablet with 16GB built-in storage space, for R2 999 all-in.
For further information, contact Tracy Andersson at education@futuremobile.biz.