Vodacom tests machine learning capabilities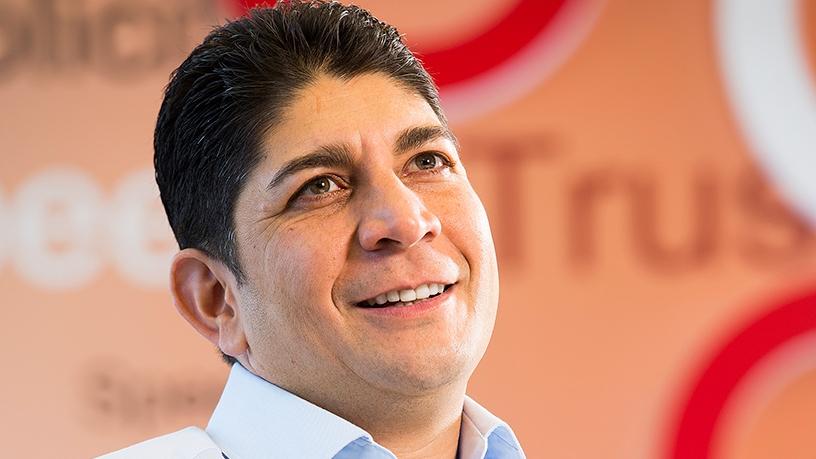 Vodacom is experimenting with big data analytics and machine learning across various areas of its business, after finding successful use cases for the technology.
This is according to Vodacom group CEO Shameel Joosub, who says machine learning is already "deeply ingrained" in the telco's 'Just 4 You' platform.
"Out of your behaviours we then adapt and personalise the offers on the platform. When you use your app or the USSD platform, the bundles you see are personalised for you, which makes your propensity to buy much higher. As you buy it keeps teaching itself and there are thousands of different packages and combinations. The machine is then learning, based on you and your segment, and teaching itself," Joosub told ITWeb in an interview.
"That can stretch further, with your permission of course. For example, when you go overseas it can pick up that you are travelling and offer you a roaming bundle.
"Or in time, with your permission, it could pick up that you are searching for other deals [on other networks] which can give us a churn prediction model. This would feed back into the sales desk which can see the customer is a risk of changing networks and can act to try retain the customer," he says.
The platform seems to be working, as Vodacom's total bundles sold in SA increased 64.8% to 1.1 billion in the six months ended 30 September. Of these, 800 million were voice bundles, which resulted in the effective price per minute reduction of 10.9%. In SA, data bundle sales also grew by 55.5% to 347 million and Vodacom says better in-bundle usage resulted in a 24.2% reduction in the effective price per MB.
The investment in predictive analytics is part of the telco's strategy to become a leading digital company. It believes the investments will provide better promotions for customers and drive revenue and customer growth across all its markets.
More to come
Joosub says the 'Just 4 You' offering was Vodacom's first big step in using machine learning and big data but the telco believes there are many other use cases where it can work in "various different areas".
"For instance, in the call centres, it gives you the ability to predict with 65% to 70% accuracy who is going to call you next month, based on past behaviour and trends using predictive analytics.
"If a customer is historically calling for a balance inquiry then you can come up with a service where you can push the balance to the customer more frequently and that then stops the call to the call centre and relieves pressure there. So you use the data predictively," he explains.
He says Vodacom's data scientists are working on profile matching, where you can match the problem to the best agent to resolve the issue.
"Also in time, you will be able to do personality matching, so based on your personality you can get an agent that will better reflect the type of person you like to deal with."
He says voice recognition has great potential to enhance call centre optimisation and Vodacom is developing the technology in-house.
"We have had software from other people but it doesn't work, because when you take all of the vernacular languages in SA, it works for English and then it gets lost. So we have come up with more sophisticated ways to do the voice recognition and we have employed special data scientists who are doing that, which then gives us the ability to use voice recognition much more successfully," he says.
"We have created a dedicated big data team in Johannesburg and we are basically providing support to all of the Vodacom and Vodafone operations in terms of writing algorithms and doing deep modelling, etc, for the different countries."
Joosub says the team of about 30 data scientists is still busy with more research and development but some innovations are well defined already.
"There are clear business cases and use cases that we will deliver next year like the call centres, insurance and financial services, so some will launch this financial year and some will go into the next year."
Other use cases include predictive analytics for insurance or financial services.
"For example, this year we will do R3.2 billion in advances, which is basically people borrowing their airtime. Now we are using predictive modelling to look at your ability to pay based on your previous behaviour. So can I give you R20 instead of R10? Do I give you multiple times to pay it off over the next two recharges or three recharges? Do I lend you voice, do I lend you data? So all of this predictive modelling starts to come in."
He says the digitisation of insurance will help with lead generation. The group is also using Web scraping of deals to improve competitiveness.
"If someone already has insurance, the chance of them buying a life policy or funeral policy from us is much less. So it's more targeted, which then gives rise to a better conversion ratio. But also digitalising that entire journey is key so that you don't have to have a call centre and you can conclude the entire journey through the app," he adds.
The Vodacom app now has 2.4 million users and 23 million customers still use USSD daily. According to Vodacom's interim results released yesterday, it has 40 million customers in SA and just over 71 million total customers across its five operations in Africa.