Medtronic expects revenue from surgical robot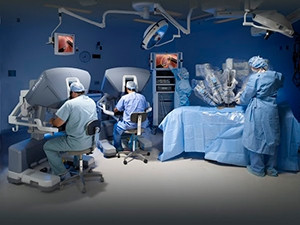 Medtronic, the world's largest standalone medical device-maker, said yesterday it expects a robotic surgical system it is developing to make a meaningful contribution to company revenue beginning in fiscal 2019.
Medtronic will launch the surgical robot before the 2019 fiscal year, with the first systems to roll out in India, said Bryan Hanson, head of the minimally invasive therapies group.
The robot will generate "material revenue" in fiscal 2019, Hanson said during the company's investor day presentation.
In robotically-assisted surgery, the surgeon guides the robot's mechanical arms from a computer console. The approach requires smaller incisions than traditional open surgery and is increasingly used in procedures such as prostate removal and hysterectomy.
When launched, Medtronic's robot will compete with Intuitive Surgical's da Vinci system, the only robot for abdominal surgery now on the market. It is also expected to face competition from Verb Surgical, a start-up backed by Johnson & Johnson and Google that is developing its own robot.
Medtronic's offering will aim to lower costs associated with robotic surgery. "It is costly today. We are going to be looking to eliminate that as a barrier," Hanson said.
Minneapolis-based Medtronic has 150 employees working on its robotic system across locations in Massachusetts, Connecticut, Colorado and Germany, he added.
The company, whose products range from pacemakers and heart valves to spinal implants, also announced plans to introduce its first hip and knee replacement devices as part of an orthopaedic solutions offering for hospitals adjusting to a new Medicare bundled payment programme.
The Medicare plan ties reimbursement to quality and spending targets for the procedure and a recovery period after the patient leaves the hospital.
Medtronic said it has acquired a company, Responsive Orthopedics, which will make the devices. It expects to have a knee available in the first half of 2017 and a hip the following year.
The company is providing input to the Centres for Medicare and Medicaid Services on a possible bundled payment plan for cardiovascular surgery, with the aim of reducing hospital re-admissions through better patient monitoring, executives said.
In diabetes management, Medtronic said it plans to apply by the end of June for US approval to sell the first "hybrid closed loop" insulin pump that adjusts insulin delivery when a high glucose reading is detected and suspends it in response to a low level.