Copper theft on the rise again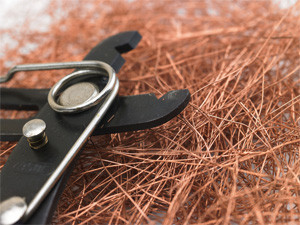 Copper theft is on the rise once again, according to the SA Chamber of Commerce and Industry (Sacci), which says its Copper Theft Barometer level increased from R12 million in August to R13 million in September.
In a statement released today, Sacci said the figures reflect a "fourth monthly increase in the year in what has been a relatively volatile nine months to date, with the barometer ranging from R15.4 million to R10.7 million".
"The increase in September gives further support to the view that copper theft may be stabilising at levels above R10 million per month," the organisation said.
Sacci added the Copper Theft Volume Indicator also increased to 173 metric tons in September from 160 tons in August and 158 tons in July. "The international average monthly spot price of copper to date decreased to $6 734 (R73 058) per metric ton in October from $6 871 (R74 545) in September and $7 005 (R75 999) in August 2014."
Weakening commodities
"The movement in the copper price mirrors the weakening in other commodity prices like gold and oil, so the downward copper price trend is typical of a broader global trend. South African exports of waste copper products dropped significantly to $7 million in August from $15.4 million in July and $24.6 million in June."
Waste metal has been subject to a domestic preference pricing system (PPS) of 10% since September 2013, so the significant drop in exports in August is unlikely to be related to the PPS and likely to be a reporting issue or a structural factor.
Sacci said the trend over the past nine months has been a "definite setback from the earlier downward trajectory from 2012 to 2013" and suggests policy interventions against copper theft need to be ramped up.
"The prospect of constrained power supply until early November as announced by Eskom on Wednesday adds urgency to the task of ensuring optimal efficiency of South Africa's power supply network," the organisation said.