Review: HP joins hybrid market with Spectre x2
The landscape of business-oriented hybrids is growing fast. Microsoft was the pioneer in this market a few years ago with their Surface Pro line-up. Apple, on the other hand, only recently launched the iPad Pro. With the brand new Spectre x2, HP clearly aims to join the arena. Does the x2 pack the punch to pose serious competition for Microsoft's Surface Pro 4?
The Spectre x2 tablet/notebook 2-in-1 (hybrid) will hit the South African stores this September. It will be available in various configurations with the entry-level (R18 000) version featuring an Intel Core M 6Y30 processor, 4GB RAM and 128GB of SSD storage. The more expensive models house a faster processor, double the RAM and extended storage space. HP also offers the X360 model, a device that is clearly marketed to be a notebook capable of turning into a tablet. The Spectre x2, however, is designed exactly the other way around: a tablet able to convert into a notebook.
This review is based on the entry-level model of the x2. Performance and battery results will therefore deviate from alternate configuration models with better specs. The x2 will primarily be stacked up to the entry-level version of the 12.3-inch Microsoft Surface Pro 4, which runs on the same operating system, houses (mostly) identical hardware and is positioned in the same price segment. For that price, each device offers similar processing hardware, RAM and storage space. Both hybrids include a stylus by default, but only HP cleverly chose to put a detachable keyboard in the box as well. In order to use Microsoft's Surface Pro like a traditional notebook, the costly Type Cover keyboard absolutely needs to be added, further increasing its price.
Look and feel: flexible eye-catcher
Design-wise, HP's new Spectre x2 is quite the looker. Apart from the glass front, it's manufactured out of one solid aluminium casing - comparable to, and copied from, Apple's unibody concept. As a result, excluding keyboard the x2 is only 8mm thick, slightly less than the Surface Pro 4 (8.45mm). Including the keyboard, the x2 totals at 13mm. At 1.23kg, it's a bit heavier than the Surface Pro 4 (1.08kg), but still light enough to be comfortably carried around the office all day, every day.
On the rear, the x2 features a device-wide glass strip covering up an array of sensors and cameras. In addition, there's a durable, stainless steel kickstand that rotates 150 degrees to conveniently adjust the device to practically any desired viewing angle. When the kickstand is unwanted, it simply integrates into the back of the unibody casing. To release it, you manually have to slide a button on the side, which can be a hassle when in a hurry.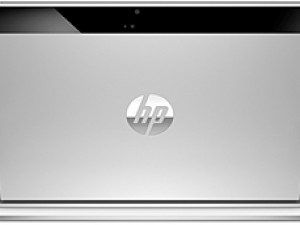 According to HP, the outside of the Spectre x2 is finished by using a sandblasting procedure. Marketing babble aside, the device, and the included keyboard and pencil, have a consistent premium look and feel to them.
One considerable point of criticism: although primarily made out of premium materials like glass and aluminium, the device lacks the much sought-after level of pure durability and solid feel. A minimal amount of force would be necessary to bend or fold it. It seems HP refrained from giving the Spectre x2 a solid inner-frame.
Keyboard
The included keyboard attaches to the Spectre x2 by using of a row of magnets located at the bottom of the screen. This interface creates a quick, firm and direct connection between the two components, allowing you to instantly start typing when they're hooked up. These magnets also enable the keyboard to slightly tilt, further enhancing typing comfort. This exact same construction was introduced earlier on by Microsoft with the Surface pro line-up.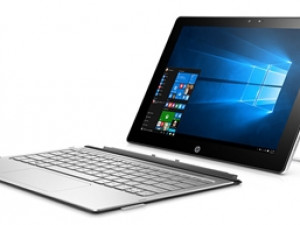 As with the detachable screen, the keyboard is primarily crafted out of aluminium so you'd expect it to feel pretty solid and strong. In reality, it feels too bendable, especially when typing fiercely and using the centre keys a lot. This flexibility is unlikely to decrease productivity, though, but it is noticeable. Additional features include illuminated keys, so you can keep going even in the dark, and a wonderfully smooth, wide touchpad. In spite of the aforementioned flaws of the keyboard, it is better than the optional, fully plastic-made Microsoft Surface Type Cover counterpart.
Kickstand & Active Pen
The Spectre x2 features a solid, integrated kickstand to put the screen in a multitude of angles. To enable it, you need to find a switch on the side, which is not that handy when compared to the easy folding mechanism used on the Surface Pro. It also takes quite a bit of effort to put the kickstand in the exact desirable angle. On the upside, the screen will definitely stay put when intensively using the touchscreen.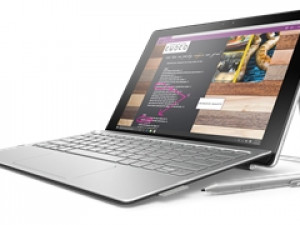 HP also includes a stylus with the x2, to facilitate creative drawing, writing, and taking notes. Microsoft's new Edge browser, for instance, facilitates taking notes while browsing. A nice touch is that the included pen supports no less than 2048 pressure levels, which should make it ideal for creating art or drawings with great precision.
The pen also features two integrated buttons, one of which can be used to erase stuff. Despite all of this technology, and as with all digital pencils, the actual usefulness in today's fast-paced business environment is questionable. Typing proves to be considerably more efficient than writing.
Hardware & performance: falls behind
The entry-level review model of HP's Spectre x2 runs on a dual-core, 14nm Intel Core M3 6Y30 processor maxed out at 0.9 GHz. Other models include a faster 1.2GHz Intel Core M7 chip. All versions of the x2 make use of the same Intel HD 515 graphics chip. In addition, the entry-level x2 is fitted with 4GB RAM, which is an absolute minimum for Windows 10 to run smoothly. A more expensive configuration offers 8GB RAM, which should make it more future proof and able to better handle multiple memory-intensive software and/or larger files.
The 12-inch LED screen can display a maximum resolution of 1920 x 1280, making images and text crystal clear and razor sharp. Compared to the ultra-high resolution (2736 x 1824) of Surface Pro 4, perceivable image quality is practically identical. Apart from the perfectly fine screen resolution, the 12-inch Full-HD display just isn't the cream of today's crop, though. Maximum brightness (310 cd/m2), contrast values (920:1) and colour reproduction are nothing exceptional, but still good enough for most business related purposes. The x2 does fall behind on its Microsoft rival, which is able to present brightness levels of 345 cd/m2 and an excellent contrast ratio of 1372:1. As a result, anyone planning to do much of their work outside in direct sunlight, or is keen on outstanding contrast and colour reproduction, will find a better deal with the Microsoft Surface Pro 4.
Storage space varies from a 128GB solid state drive on the cheapest model to 256GB or even 512GB, and there's always the option to expand by using the integrated micro SD card reader.
To connect peripherals or recharge, the device offers two USB C ports. In order to connect traditional USB hardware, a connector cable is required, which unfortunately needs to be purchased separately. The x2 also lacks an HDMI connector to directly hook it up to a TV and has no on-board GPS receiver, making accurate navigation not an option. It does, however, support the latest Bluetooth and Wi-Fi standards.
To find out how the Spectre x2 would stack up to its Microsoft reference rival, I ran three separate benchmark test. PCMark, Cinebench and 3DMark showed a consistent outcome: the x2 can't quite keep up with the Surface Pro 4. The difference is minimal, so most users are unlikely to notice when performing day-to-day office tasks like handling documents, browsing or communicating in various forms. However, the Surface Pro remains a tad bit faster making it marginally more future proof.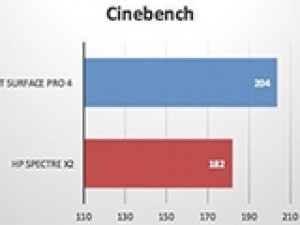 Sound and cameras: flat, yet deep
HP decided to collaborate with the renowned Bang & Olufsen brand in order to claim excellent sound quality. The x2 therefore houses two speakers on the side of the screen and two extra in the keyboard. Sounds great on paper, but not in practice, though.
When connected to the keyboard, the volume is acceptable at best. However, when detached, and the x2 solely depends on its integrated screen-speakers, its volume leaves much to be desired. The same goes for actual sound quality, which is just all-round flat. Both high and low frequencies are barely audible.
The Spectre x2 features an array of neat on-board cameras. There's the 5MP front facing camera for sharp, hi-res videoconferencing, and an 8MP backside version. In addition, there are three more on the back -all of them with the sole purpose of scanning the environment in 3D using Intel's RealSense depth sensing technology. Two of those three use laser technology to accurately measure distance to a person or object, while the third is a more traditional camera sensor that ultimately aids in forming a complete 3D-image.
Unfortunately, relatively few usable applications for this 3D-scanning technology exist at this point in time, especially for business scenarios. I really hope that, with the RealSense technology gaining more ground, so will the number of apps and applications using it as it definitely has a lot of potential. The on-board 3D-scanning sensors do make the x2 arguably extra future-proof and ready for innovative facial identification and authorisation possibilities when the time is ripe.
Battery life: full day at work
The device houses a relatively high capacity 45Wh battery in contrast to the Surface Pro 4 (39Wh). As a result, measured battery life of the HP is slightly longer.
While continuously browsing websites the x2 lasts for six hours and 30 minutes, which roughly translates into eight and a half hours when additional idle time of both the user and the system are taken into account - pretty good for a Windows 10 hybrid device.
When watching HD video material non-stop, the Spectre x2 will last for almost seven hours, while the Surface Pro 4 shuts down in just under six hours. The Spectre x2 should have no trouble lasting for a whole day at the office while the Surface Pro 4 is likely to run out just before the end.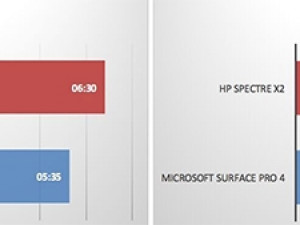 Final verdict
It seems HP clearly feels no shame in trying to copy Microsoft's Surface Pro 4 concept, and that inherently is not a bad thing at all. Although the x2 isn't as lightweight and fast, nor does it offer the same screen quality, it does deliver longer battery life and an innovative array of 3D-cameras to compensate. The most important differentiator, however, is the included keyboard, which Microsoft inexplicably failed to include in the box by default.
Bottom line: anyone who is looking for a Windows 10 hybrid with full-day battery life and included keyboard, and isn't particularly keen on an extravagant high-quality display, will find the HP Spectre x2 to be an excellent choice.