All change at Telkom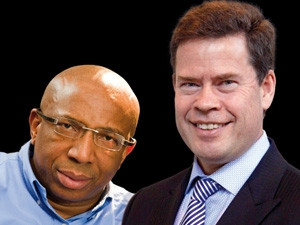 Several radical changes have been made at fixed-line dominator Telkom during the past six months, yet in reality they seem to merely be cosmetic, as the operator's strategy has not fundamentally shifted since it unbundled its 50% stake in money-printing Vodacom, a deal that was started five years ago.
Instead, the past half-a-decade has been characterised by a litany of bad decisions, some by its ever-changing board, and others prompted by government; Telkom's single largest shareholder with close to 40% of its stock.
In the decade since Telkom has listed, it has seen its market share falling, with fixed lines being cannibalised by mobile operators, investors losing confidence as its shares slip to a price lower than its listing offer, and it still lacks a concrete way forward.
Government sees Telkom as key to its 2020 broadband-for-all vision, yet Telkom's numbers show that it has neglected to push its biggest asset: thousands of kilometres of network in the form of copper and fibre, losing half-a-million customers in the last five years.
Telkom's network will be key to pushing communication access into SA's more rural parts, but Telkom will have to invest heavily to expand the reach of its network and improve speeds.
Yet, after the state decided that Korea-based KT Corporation's bid to buy 20% of Telkom was a bad idea, almost a year ago, there has been no indication, either from the board or the Department of Communications (DOC), as to what's next. While Telkom has said it will fund its expansion through cash and debt, it will find going to the market tough going.
Telkom's profitability is under pressure, as is its traditional sources of revenue, and its post-Vodacom foray into mobile - 8ta - will be loss-making for some time as it rolls out infrastructure. Analysts have suggested that Telkom needs a strategic partner of some sort to pump cash into the company.
Regardless of whether the company finds another suitor, something needs to happen, and now. Investors are so reluctant to put money into the company that its market capitalisation - R6.7 billion - is about a fifth of its R35.4 billion valuation of its property, plant and equipment.
Free fall
Telkom listed on the JSE in March 2003, with an opening price of R28, but its shares have recently been in freefall, being hit by its numbers for the year to March 2012, previous CEO, Nombulelo "Pinky" Moholi's unexpected departure, a R449 million Competition Tribunal fine, and government's June decision to can the deal with KT Corporation, which would have boosted Telkom's coffers by R3.3 billion at a time when it expects to spend as much as R21 billion rolling out a next-generation network.
Yet, despite the analyst community's optimism after Telkom announced the appointment of Dr Brian Armstrong as COO, a position expected to strengthen newcomer CEO Sipho Maseko's role, and the mid-May news of the appointment of head of strategy, Dr Miriam Altman, its stock has not recovered in any meaningful way.
Telkom gained slightly after news of Armstrong and Maseko's appointments, bolstered by hope that highly-regarded Armstrong - until recently MD of Telkom Business - would be the trump card that will strengthen Maseko's leadership position, as Maseko takes over the reins from Moholi, who announced her resignation last year. Yet, it has shed more than 40% this year alone. The appointments followed closely on the heels of Telkom's need to replace its board towards the end of last year after losing several directors after the DOC voted against their re-election, and chairman Lazarus Zim quit.
In December, it appointed five business leaders as independent non-executive members of its board - Susan Botha, Clive Fynn, Khanyisile Kweyama, Fagmeedah Petersen and Louis von Zeuner - taking members to 14 and allowing it to fill vacancies on board committees and to focus on hiring a new CEO. The new members joined new chairman Jabu Mabuza and recruits Leslie Maasdorp and Kholeka Mzondeki.
Maseko is considered fairly inexperienced in the telecoms space, having previously served as MD of Vodacom for less than a year. However, market observers believe Armstrong's 25 years' experience in ICT and telecommunications will negate any potential weakness stemming from Maseko's limited exposure to the industry.
Despite this, analysts have cautioned that a successful turnaround for Telkom is intrinsically linked to government's pending decision on a strategic direction for the company, while the current lack of clarity is seen as Telkom's biggest stumbling block. The lack of input from the state around Telkom's future has also been pegged as the reason investors are avoiding the stock.
As the largest single shareholder, government holds a 39.7% direct stake in Telkom and another 10.6% indirect interest though the state-owned Public Investment Corporation (PIC). The state has repeatedly been accused of interfering with the running of Telkom.
After the KT deal was binned, communications said it would revert, in three months, to Cabinet with options for a turnaround plan for Telkom. This has been delayed, and neither the department nor Telkom - which is in a closed period - have shed any light on when some news will be forthcoming.
"I have a feeling that the new board is strong and that government has realised that it can't interfere overly [in the running of Telkom]," Ovum analyst Richard Hurst has said, adding that the fixed-line operator still has an important role to play in the country's telecoms space.
Hurst noted that Telkom has the biggest fibre network in the country and holds a large chunk of the local broadband and enterprise market, which it now needs to translate into a global business. He also speculated that a strategic equity partner is likely to be announced for Telkom in the near future - "someone from the Indian subcontinent".
BMI-TechKnowledge MD Denis Smit has said that government's next move is pivotal for the future of Telkom. "Government must proclaim what it wants to do. There are so many issues facing Telkom; the board and government must develop a strategic direction. Telkom is too big to fail."
While Smit was not optimistic about government's urgency to announce a strategic path for Telkom - whether it should be split into separate wholesale and retail units - he said the state owes minority shareholders some clarity.
Vestact analyst Sasha Naryshkine has argued that Telkom is currently undervalued and the biggest obstacle to its growth is that the state has yet to put a plan on the table to provide a future strategy for the entity.
Telkom is battling with a heavy cost base and is losing customers, a shift that will deepen once long-term evolution takes off, as more clients will move to mobile, Naryshkine said.
The operator currently has about 3.9 million fixed-line subscribers in total, compared with MTN's South African base of 25 million and Vodacom's 30 million. 8ta has about 1.5 million subscribers, and Cell C about 10 million.
Revolving door
| | |
| --- | --- |
| April 1998 to September 2005: | Sizwe Nxasana = 7.5 years |
| September 2005 to April 2007: | Papi Molotsane = 1 year, 5 months |
| April 2007 to November 2007: | Reuben September (acting) = 8 months |
| November 2007 to July 2010: | Reuben September = 2 years, 8 months |
| July 2010 to March 2011: | Jeffrey Hedberg (acting) = 8 months |
| March 2011 to April 2013: | Nombulelo "Pinky" Moholi = 2 years |
| May 2013 to current: | Sipho Maseko |
Communications minister Dina Pule has told ITWeb that a strategic plan for Telkom would be announced imminently. Pule said she had met with Telkom's board and was waiting for the company's directors to present a future strategy to the DOC.
However, she insisted government has no plans to dictate what this strategy should be, but that it would only guide Telkom in terms of policy directives.
Strategic plans
Altman's role aims to support the development and execution of Telkom's strategy, and she will report directly to the group CEO. "The appointment of a seasoned executive with strategy and policy development experience is another building block in Telkom's turnaround process," said Maseko. Telkom's move to appoint Altman supports Armstrong's appointment as COO.
"Telkom is in the process of reviewing its strategy to ensure that it delivers on its mandate and restores its financial health. The objective of Telkom's turnaround is to deliver sustainable performance. Several areas of the business are under review, and a co-ordinated set of initiatives are already under way," said Maseko. Meanwhile, Telkom's latest published strategy seems to be remarkably similar to what it announced in 2009, which followed the spin-off of Vodacom. Back then, when it had 4.45 million fixed-line customers, it said its strategy "continues to focus on defending and growing our traditional voice base".
"Our growth strategies focus on adding revenue by developing a fixed-mobile capability to give us a larger share of the voice revenue pie, aggressively building our data, broadband and converged services offering, and expanding geographically into high-growth markets."
At half-year, the last set of published numbers, Telkom said its strategy remains to:
* Lead in data and broadband and in fixed-mobile convergence;
* Grow Telkom Business revenue by diversifying the service portfolio;
* Build a successful mobile business;
* Regain market competitiveness in the consumer market;
* Consolidate its position as wholesaler of choice;
* Focus on profitable market segments and services; and
* Enhance operational efficiency.
A year ago, the company said it had 18 months in which to grow revenue to stave off significant cost interventions. Chris Gilmour, Absa Investments analyst, says - in the past five years - "nothing has changed" apart from the Multi-Links sale.
Gilmour says the balance of Telkom's strategy is "frighteningly similar". He points out that Telkom has not done enough to boost its fixed-line penetration, but has also been held back by legacy decisions, including government's refusal to allow competition until the market was finally opened up with Neotel's launch.
Back in the middle of 2009, after the Vodacom deal had gone through, then CEO Reuben September, said: "The transformation of Telkom is absolutely necessary to allow us to be agile and responsive to our customer needs and to the changing environment."
September noted that Telkom was reorganising into a single corporate centre and three operating business units. "The new structure introduces simplicity into the organisation, aligns with our vision and strategy, instils an imperative profit and loss accountability and provides opportunities to manage cost, to manage our resources more efficiently and to execute our strategy with greater focus."
Gilmour says the cancer is too deep for the top team to do anything about and a new direction is required urgently. Telkom is at a crucial point, but needs to focus more on its fixed-line assets, he adds.
Cost is still an ongoing issue for the company, and in March it said it needed to cut down on staff numbers, would do so through a voluntary severance and early retirement process between mid-March and the end of August, before moving to a forced retrenchment process, if necessary.
Thami Msubo, Telkom's chief of human resources, said at the time there is an "urgent need" for Telkom to address its human capital requirements, which impacts substantially and directly on the company's cost base.
A Telkom briefing, found on Solidarity's Web site, says staff costs are approaching a third of total costs, while the comparative figure for other fixed-line operators is below 25%.
Telkom's presentation states revenue is under pressure and structural changes to the cost base are inevitable. It says a significant saving, in the form of a headcount reduction, must happen while at the same time minimising the impact on revenue generation and protection.
Telkom warns that, after the window period, voluntary packages will be "reduced significantly" and in future, all forceful retrenchments will be paid out based on the minimum benefits in the Labour Relations Act.
Its current situation, in which profitability and revenue are under pressure, has been coming for years. Yet, in 2009, after selling Vodacom, September was enthusiastic about the future: "Telkom, unhindered by the restrictive Vodafone shareholders' agreement, is ready to aggressively compete in the communications market."
In Telkom's 2009 annual report, the last year in which Vodacom is included, it said it reaped an "excellent" amount of R22.5 billion for the sale of 15% to Vodafone, and was able to pay a special dividend of R19 a share to shareholders. The report states the conclusion of the Vodacom transaction gives Telkom the "freedom to compete".
At the time, it said the move would allow it to "enter the South African mobile market and provide fully converged services. Telkom is now a smaller company, which allows us to put more focus on our key growth areas."
September said "we are now poised to compete more aggressively in the telecommunications market. Our defend and grow strategies are on track and, following our restructuring, we are better placed to manage our resources more effectively and efficiently."
However, it was not until October 2010 that Telkom launched its mobile offering, branding it 8ta. The arm, while turning over money, has been running at an earnings before interest, tax, depreciation and amortisation loss, which amounted to R2.4 billion last year. In the financial year that has just ended, Telkom had expected to trim this by 20%, it said a year ago.
In the same year that Telkom got rid of Vodacom in a bid to compete - the shareholder deal with Vodafone prevented it from fully targeting Africa - it flogged its 75% stake in Telkom Media to Schenzen Media, took its stake in Multi-Links to 100% and bought M-Web Africa from Naspers.
Telkom abandoned its pay television subsidiary for a mere R68 million after failing to get it off the ground, and wrote off a debt worth R471 million.
"Our footprint in Africa now covers almost the entire continent, excluding North Africa, providing Telkom with opportunities to extend our services to a very fast growing market," enthused September.
However, he conceded that its initiatives in Africa have been challenging given the high start-up costs, unknown and competitive markets, infrastructure and technology challenges, skills requirements, and volatile currency and interest rate markets.
Since then, Telkom has sold out of Multi-Links, for a mammoth R1 billion net loss, and put its African ambitions on hold. M-Web Africa, bought for just more than R600 million, is now iWayAfrica, the result of the merger of Africa Online - a R150 million deal - and M-Web Africa. iWayAfrica has also been written down substantially in past years.
Multi-Links was also a bad strategic move. Telkom bought 75% of the company in May 2007, for R1.96 billion, buying the balance two years later for a further R1.224 billion. Telkom wrote it down for more than R5 billion in total before finally flogging it.
In 2009, operating revenue from continuing operations, which doesn't include income from Vodacom, gained 6.9% to R35.9 billion. Headline earnings per share from its continuing portfolio lost 45.9% to 557c, while basic earnings per share dropped 57.7% to 407.4c.
Last year, Telkom reported a profit from continuing operations of R179 million off flat operating revenue of R33 billion. However, it made a loss from discontinued operations of R269 million, leading to an overall loss of R90 million, compared with the R1.3 billion profit in 2011. Headline profit was R1.7 billion.
This year, headline earnings per share will be at least 20% lower than last year when it reports numbers on 14 June. Ironically, had Telkom kept its Vodacom stake, it would have earned R16.65 billion in dividends from Vodacom in the five years since the cellular giant made its debut on the bourse.
Then and now
| | | |
| --- | --- | --- |
| | 2009 | 2012 |
| Revenue | R35.9bn | R33bn |
| Headline earnings per share | 557c | 310.8c |
| Pre-tax profit | R3.7bn | R774m |
| Subscribers | 4.45m | 3.9m |