Global cognitive, AI spending to boom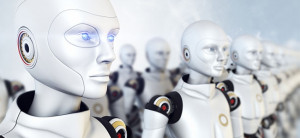 With many industries aggressively investing in cognitive and artificial intelligence (AI) solutions, global spending is forecast to reach $57.6 billion in 2021.
This is according to the International Data Corporation's (IDC's) Worldwide Semi-annual Cognitive Artificial Intelligence Systems Spending Guide.
The report found worldwide spending on cognitive computing and AI systems - technologies which perform tasks that only humans used to be able to do - is expected to achieve a compound annual growth rate (CAGR) of 50% over the 2016-2021 forecast period.
IDC says this year, spending on cognitive and AI systems will total $12 billion, an increase of 59% from 2016. The retail and banking industries will spend the most on cognitive and AI systems this year, with investments of $1.74 billion and $1.72 billion, respectively.
In addition to spending the most, retail will also deliver the fastest spending growth, with a 2016-2021 CAGR of 58.8%, according to the report.
"Cognitive and artificial intelligence solutions continue to proliferate across all industries, resulting in significant growth opportunities," says Marianne Daquila, research manager of customer insights and analysis at IDC.
"Some of the use cases are very industry-specific, such as diagnosis and treatment in healthcare, and in others they are common across multiple industries such as automated customer service agents. The variety, application and nature of cognitive/artificial intelligence use cases is resulting in ubiquitous spend over the forecast period."
The discrete manufacturing, healthcare and process manufacturing industries are forecast to spend more than $1 billion each this year, with combined investments expected to represent nearly 55% of all worldwide spending by 2021, notes IDC.
David Cosgrave, customer intelligence lead at SAS, says although AI, machine learning and cognitive computing are still in the infancy stages in SA, the manner in which these technologies are being adopted in the developed world suggests it won't be too long before the retail experience of the future is upon SA.
"The gains provided by technologies like advanced analytics and AI are such that it will enable large retailers to truly optimise both their stores and their supply chain, allowing them to have the right mix of products, for the right customers, at the right store, at the right price, at the right time."
A PricewaterhouseCoopers research report, Bot.Me: A Revolutionary Partnership, stated AI has a market projected to reach $70 billion by 2020, an indication the technology is poised to have a transformative effect on consumer, enterprise and government markets around the world.
Paul Daugherty, CTO at Accenture, says AI will transform business in ways we've not seen since the impact of computer technology in the late 20th century.
"The combinatorial effect of AI, cloud, sophisticated analytics and other technologies is already starting to change how work is done by humans and computers, and how organisations interact with consumers in startling ways. Our research demonstrates that as AI matures, it can propel economic growth and potentially serve as a powerful remedy for stagnant productivity and labour shortages of recent decades," asserts Daugherty.