Gauteng, university ink smart tech pact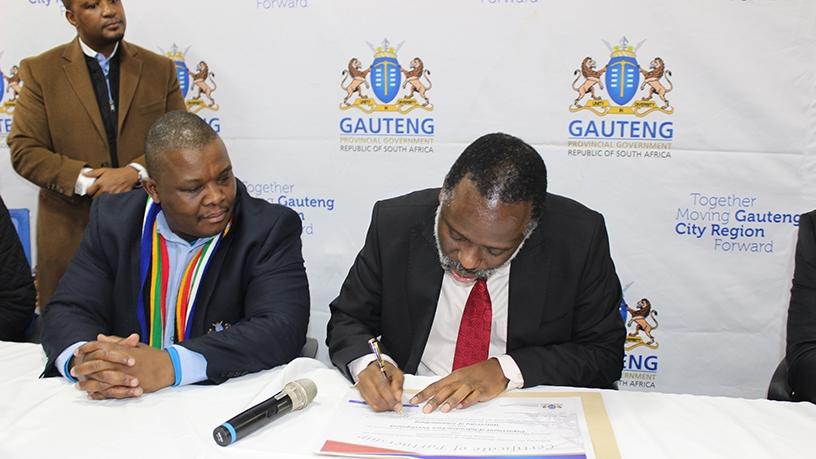 The University of Johannesburg (UJ) and the Gauteng Provincial Government have signed a memorandum of understanding (MOU) to accelerate delivery of public infrastructure through smart technologies.
The partnership is in pursuit of common interests such as research and development, innovation and the advancement of using computational intelligence and artificial intelligence for rational decision-making.
MEC of Gauteng Department of Infrastructure and Development (DID), Jacob Mamabolo, signed the MOU with UJ on Tuesday. Professor Tshilidzi Marwala, vice-chancellor of UJ, agreed to pave a way for the use of cutting-edge technologies to ensure the delivery of social infrastructure is more efficient.
The university says the MOU confirms its commitment which will see UJ provide scientific research to assist the department in delivering quality infrastructure on time, within cost and leveraging on the opportunities that come with the fourth industrial revolution as well as artificial intelligence.
"The fourth industrial revolution is upon us and it will have a tremendous impact on every aspect of our lives. To understand it, one needs to understand the history of industrial revolutions. It is a great pleasure to sign this certificate of partnership which will help us serve our people," said Marwala.
During the signing, Mamabolo said: "The signing of the partnership today builds on the MOU signed by premier David Makhura in 2016 with all the vice-chancellors of universities in the province. As a country and a province, we can't afford to have high rates of investment in infrastructure while we have low rates of economic growth."
The partnership was concluded just two months after DID launched its "eye in the sky", the drone programme, which has strengthened the department's ability to monitor work being done on the ground in 340 projects that it is delivering in all development corridors of the Gauteng city region.
Mamabolo added the partnership between DID and UJ was in line with the Gauteng Provincial Government's strategic outlook, the provincial vision of transformation modernisation and re-industrialisation.
"Through the partnership, we are building a Silicon Valley of infrastructure delivery. It will help us find solutions to smart infrastructure, meaning buildings that can respond to climate change, but also delivering infrastructure the smart way," Mamabolo added.
Currently, Marwala and his research team are developing innovative ways of remotely monitoring critical national infrastructure such as transformers and bridges in real-time.
They feed this monitoring data into real-time artificial intelligence machines to detect faint indications for impending failure and to recommend predictive maintenance before breakdowns can occur.