SONA jamming declared a mistake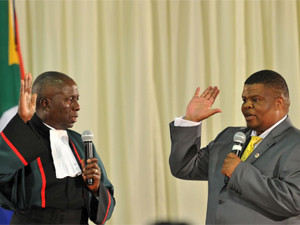 The State Security Agency says last Thursday's loss of cellular signal in Parliament, which marred the State of the Nation Address (SONA), was an "operational error".
Minister of state security, David Mahlobo, yesterday explained the signal disruption was "caused by an operational error by the member on duty" and is "highly regretted".
In what is the clearest indication the signal disruption was caused by a jamming device, the minister said: "The operator failed to properly terminate the device and this impacted on proper access to some users of mobile phones."
President Jacob Zuma's SONA was delayed by about 15 minutes as members of Parliament raised a point of order because no mobile signals were available in the house. Opposition members chanted "give back the signal" and insisted the evening could not proceed without free access to frequency, which was subsequently restored.
A Parliamentary probe is already under way into what government ministers have called a "technical glitch", and the Democratic Alliance has demanded the Independent Communications Authority of SA (ICASA) probe the loss of cellphone signals during the event.
The incident has previously been ascribed to a jammer, which IRS Forensic Investigations CEO Chad Thomas says would have been military grade, but of the sort that is used covertly, and would have fitted into a briefcase of the size lawyers often tote around.
Taking steps
Mahlobo notes a departmental investigation is under way with "a possibility of disciplinary action for those responsible for this operational failure". The only instance in which jamming is legal, says ICASA, is when the devices are used by National Security Cluster Departments.
The "operational failure" has already seen several organisations, including the Right2Know campaign, approach the courts to prevent a reoccurrence. Mahlobo adds the department "regrets the unintentional disruption of signal in certain parts of the parliamentary chambers".
"In future, the Department of State Security will ensure its members in discharging their operational tasks handle their operations more diligently. This operation was never intended to frustrate the parliamentarians, the media and anyone who attended Parliament."
Mahlobo notes the agency's mandate allows it to deploy various security measures at various major events, rallies, occasions and events where the president is in attendance and where threats and risk assessments justify such measures.