CWU members strike at Telkom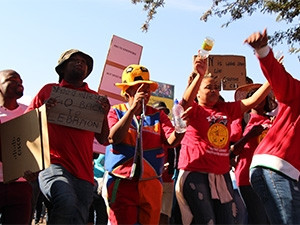 Telkom workers who are members of the Communication Workers Union (CWU) are on strike, as the union fights for salary increases for its members.
CWU president Clyde Mervin told ITWeb the union's members had been on a go-slow since last week Monday. He says the members then officially went on strike yesterday and as of today there would be "a total shutdown in Telkom".
The union has over 4 000 members working at Telkom, and CWU general secretary Aubrey Tshabalala says around 90% of the members were downing tools.
However, Telkom's group executive for communication, Jacqui O'Sullivan, says the number of striking workers is under 1 000. She says at the close of business yesterday, there were about 700 workers officially noted as striking, but the company expects that number to rise to about 950 as operational managers continue to log confirmed striking workers into Telkom's system.
The crux of the strike comes back to CWU's displeasure with a collaborative partnership agreement Telkom signed with trade unions Solidarity and the South African Communications Union in June.
At the time, Telkom said the CWU had agreed "in principle" to the deal, but to this day the union has still not signed it. This is mostly due to a stipulation in the deal that Telkom would not give any annual increases for staff this year, but committed to a 6% salary increase for all employees from 1 April 2017.
The deal included a promise of no forced retrenchments and limited outsourcing over the next two years. The telco also made significant changes to staff incentive remuneration, introducing a new incentive plan, called Performance Pays, whereby employees are paid more if they reach specific performance targets each month.
Mervin says there were some issues in the agreement that the union backed ? like the stipulations on retrenchments and outsourcing ? but the issue of 0% salary increases for workers was something the union simply could not accept.
"Telkom is saying to workers they are getting a pay freeze and working hours must be reduced and we are saying you cannot negotiate in that way when the CEO, Sipho Maseko, has received an increase from R12.3 million to now getting R14.5 million, meaning he received an increase of R2.2 million and workers are getting zero.
"That will never be correct. The treatment should be fair. If nobody must get increases, then why are the top executives getting increases?" Mervin asks.
The union demands an 11% annual salary increase and six months' maternity leave for its members.
"Telkom has been informed that the CWU feels the current situation does not address its members' needs of a cost-of-living inflation-linked salary increase and it cannot recommend to its members to participate in the Performance Pays scheme that commenced on Monday, 1 August," O'Sullivan explains.
She says that as part of the new incentive scheme, employees can earn up to 12% more for the value they deliver to customers.
"Telkom wishes to pay its bargaining unit employees more for great performance. It enables our bargaining unit employees to have a more direct and clear linkage between their efforts and additional pay," she says.
Stalemate
However, at this point, O'Sullivan says no deal has been reached between Telkom and CWU on substantive wage negotiations.
"CWU has been asking the company to give it more time to consult with its union membership in order to procure a mandate to sign the two-year deal. Telkom has given CWU the opportunity to procure this mandate but to no avail.
"Telkom has consistently been given the impression that CWU is willing to reach an agreement but at this stage, that has not happened," she says.
Despite the CWU not signing the collaborative partnership agreement, O'Sullivan says all CWU members in the bargaining unit will still be able to participate in the Performance Pays scheme.
"After many months of discussion and collaboration with organised labour about rewarding employees, Telkom has decided it can no longer delay the opportunity for employees to significantly enhance their monthly income through the Performance Pays scheme and wishes not to exclude any employee to participate and determine their own destiny."
However, Mervin is still against the system and says Telkom "must come and engage us or their business will suffer".
Other grievances include a need for changes to Telkom's salary scales so that members can be on an equal footing with their counterparts.
"Right now, our members are on a lower salary scale than their white counterparts; it's called the apartheid wage gap," he says.
Marching orders
The union says over 2 000 of its members participated in protest marches to the Johannesburg Stock Exchange and Telkom's offices in Cape Town and Durban yesterday. Tshabalala says the march to the bourse was because "since Telkom listed on the JSE, its workforce has dropped significantly" and he believes the company is "only prioritising maximising profit at the expense of workers".
Over the past financial year, over 4 300 staff took voluntary early retirement and severance packages or were redeployed through outsourcing. Over the long-term, staff numbers have dropped significantly: at the end of March 2013, Telkom had around 21 200 employees but by the end of May 2016, this number had dropped to just over 12 500. Of those, about 8 400 are unionised.
The CWU is also warning of a strike at MTN after the telco announced plans to outsource some of its call centre facilities, which could affect around 400 workers.
"Every day that passes by it becomes more inevitable that a strike could happen at MTN," Tshabalala says.
Last year, CWU members spent almost two months striking at MTN over pay increases and bonus payouts.
"We are ready to be engaged [with Telkom and MTN], but we will remain a militant union, we will remain resolute, we will fight for our members ? because that is our duty," says Mervin.