Samsung confirms smart watch in the works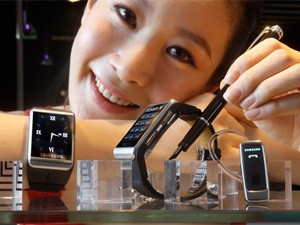 Samsung has publicly confirmed it is indeed working on a smart watch device and indicated it intends to be first to market.
Speaking to Bloomberg, Samsung's executive VP of mobile, Lee Young Hee, said: "We've been preparing the watch product for so long. We are working very hard to get ready for it. We are preparing products for the future, and the watch is definitely one of them."
His comments follow the recent leak of screenshots supposedly from the interface of a new Samsung smart watch, which emerged on a Korean message board.
While Lee has not revealed any details about the features of the device, the leak suggested the device is dubbed the Samsung Galaxy Altius.
From the screenshots, a network connection was also clearly visible, leading to speculation that the device could have its own data connection. Other features picked up from the images include a map app, e-mail, a music player and, of course, a clock.
It has been noted that both Samsung and Apple are starting to see the high-end smartphone market begin to slow and, therefore, seeing a need to innovate in new growth markets.
It has been widely reported, but still not officially confirmed by Apple, that Apple has a team of 100 product designers working on a so-called "iWatch" with a curved glass display and supposedly running a full version of iOS. Now that Samsung has made its intentions clear, the race is on to see which company will be the trailblazer in this space.
"The issue here is who will first commercialise it so consumers can use it meaningfully," said Lee.
Apple is famously secretive about its upcoming products, and Samsung's move to publicly reveal its plans are indicative of a different strategy.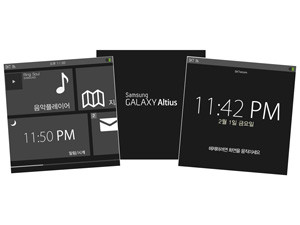 Samsung and Apple have been locked in fierce rivalry in the mobile device space - particularly in the touch-screen smartphone market. By making the first public remarks about a smart watch, it has been noted that Samsung could be trying to avoid having its product dubbed a copycat or "me too" device.
Prior to Samsung's big reveal of its flagship Galaxy S4 smartphone last week, Apple's marketing chief Phil Schiller sharply criticised Samsung and the Android software it runs on many of its devices.
Tried before
To Samsung's credit, it has indeed been working on touch-screen watch products for many years, and even launched the S9110 "Watchphone", with a full touch-screen and Bluetooth connectivity, in 2009.
The press release at the time stated: "Featuring a 1.76-inch full touch-screen customised for the wrist-watch form factor, the S9110 aims to attract mobile phone users who want a unique fashion item that keeps them connected on the go. The device also enables the users to check their e-mail seamlessly through Outlook."
Even prior to that, in 1999, Samsung produced the SPH-WP10, which it said was the "world's first watch phone". Neither of Samsung's early "watch phone" products struck a chord with consumers though.
Recently, wearable computing devices have been working their way into the mainstream consumer space. According to an ABI Research report, it is forecast that by 2015, 485 million wearable computing devices will be shipped annually.
Currently, ABI says about 61% of the wearable technologies market is attributed to sport/activity trackers. However, the research firm says this could change as a new category of smartphone-compatible watches begin to emerge alongside the impending consumer release of Google Glass.
A revelation?
Senior analyst at ABI, Josh Flood, says the current buzz around wearable technologies is "unsurprising".
Speaking of the rumours around the iWatch specifically, Flood says: "Apple's curved glass-based watch could prove to be a revelation in the wearable technologies market. The major question is whether the digital timepiece will act as a complementary device to the company's iPhone smartphones, or as a standalone product with other functionalities like health or activity-tracking capabilities."
Consumer product strategy analyst at Forrester, Sarah Rotman Epps, also notes that success in the wearable technology space is not a given. Microsoft launched a smart watch in 2003, and discontinued it in 2008, while Fossil made Bluetooth-enabled smart watches in 2006, but struggled to find any traction in the market.
The current mobile device environment could help boost the appeal of the smart watch in the market though. Rotman Epps says: "Smartphones mean that wearables can do less: they can piggyback off the phone's display, processor, radio, and more. In 2003, there were no smartphones."