Parenting app takes innovation prize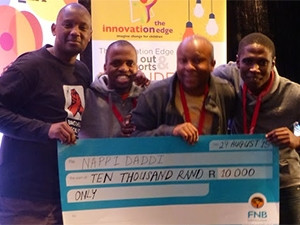 NappiDaddi, a mobile app encouraging and helping fathers of young children to be involved in their child's early care and development, won the top innovation award at the SA Innovation Summit 2015 Hackathon for Early Childhood Development on Saturday.
The parenting app uses gamification to motivate fathers to face the numerous challenges of child care, as well as facilitating the exchange of knowledge through peer-to-peer advice.
"NappiDaddi eases the transitioning into parenthood through clear pattern recognition and rule-based guidance," explained Kanya Msila, a member of the winning team of amateur programmers. The app also "democratises the process of raising cognitively strong and healthy children through a facilitated network," he added.
Looking for life hacks
The Hackathon for Early Childhood Development (ECD) aims to find tech-based solutions to widespread ECD challenges such as limited access to good nutrition during pregnancy and for children, lack of responsive care, lack of child safety, lack of early stimulation and parent involvement, and limited meaningful cross-sector collaboration to address these issues.
The 24-hour challenge was developed by the Silicon Cape Initiative for tech entrepreneurship and the Innovation Edge fund, which supports the testing of ideas to improve the early life experiences of children.
"We believe advances in technology offer exciting possibilities for addressing challenges within the early learning space," said Sonja Giese, director of the Innovation Edge.
Hackathons "highlight new ways to come up with innovative solutions to specific challenges," said Lianne du Toit, VP of Silicon Cape, which has been involved in hackathons since 2012.
The 2015 Hackathon for ECD was held at the SA Innovation Summit in Cape Town and took the form of a 24-hour challenge from 28-29 August, during which teams of amateur or student coders and programmers developed a tech-based solution to answer one of seven questions.
Questions included how tech could expose ECD practitioners in under-resourced communities to good quality early learning programmes, how tech could turn waiting places (such as clinic waiting rooms) into engaging spaces for caregivers of young children, and how tech could help make tasks or activities more inclusive of children with disabilities.
Teams' final solutions were judged according to how innovative (new or disruptive) they were, how substantially they addressed their chosen challenge, how feasible the solutions were to implement and how adaptable and scalable they were.
The NappiDaddi team took home a R10 000 prize, which they plan to spend on developing the app further.
Other Hackathon teams included "The Authors", who worked on a mobile storytelling app using text, pictures and video to tell stories in a range of African languages, and the "Tech Invaders", who aimed to use tech to educate people about developmental disorders such as autism and ADD.