Wits Origins Centre opens VR experience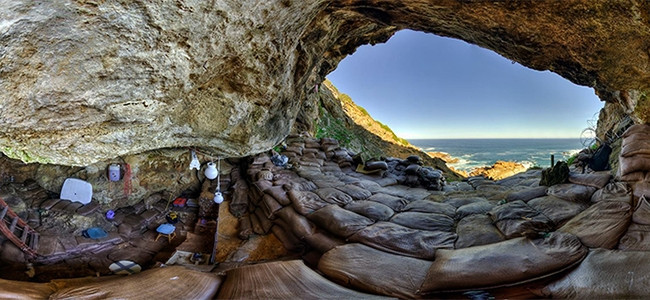 Virtual reality (VR) gives users the sense that they are somewhere else, allowing them to experience another place, even if that place is ancient history.
This is what the Origins Centre at Wits University wants to achieve with its new VR installation.
The museum will use the technology to tell the story of human development into society and ancient Stone Age technologies, using the same visual materials that are used by scientists in the research process.
"This is the first time that VR has been used in the Origins Centre at Wits, and the first production of the archaeology and palaeontology stories that are told in the museum, using photographs, text panels, casts of human ancestral skulls and real stone tools," says Steven Sack, director of the Origins Centre.
The production, which was made possible through a collaboration between Sack and Professor Barry Dwolatzky, director of the Tshimologong Precinct, has been facilitated by the Rock Art Research Institute, the Evolutionary Sciences Institute and the South African Rock Art Digital Archive, which are all located at Wits University.
The National Institute for the Humanities and Social Sciences has supported two young researchers, Dr Tammy Hodgskiss and Lara Mallen, to lead the content development.
The production involved a collaboration between VR production house Alt Reality and archaeologists Hodgskiss and Mallen.
"The VR experience immerses viewers in a journey through time, from the African early hominin fossil skulls, significant changes in ancient tool use, and the innovations of the Middle Stone Age, to the captivating spirit world of southern African San rock art. You will follow in the footsteps of the researchers who are solving the mysteries of Africa's rich past," says Hodgskiss of the Evolutionary Studies Institute, and an expert in this field of research.
The Origins VR production will be used to update the material currently on display at the Origins Centre and will assist in bringing younger voices and women researchers into the story of what is known about rock art and the early modern human ways of living.
"Tshimologong is Wits University's exciting new digital innovation precinct in Juta Street, Braamfontein. The VR production was developed by Alt Reality, one of the start-up companies we are incubating. It will be launched as part of the annual Fak'ugesi Festival we host in Tshimologong," says Dwolatzky, who has personally funded part of the production.
The VR installation will be available to watch from next week Monday, 25 September, at the Origins Centre. It will then be on permanent display at the centre.