Tablet gaming market to hit $13bn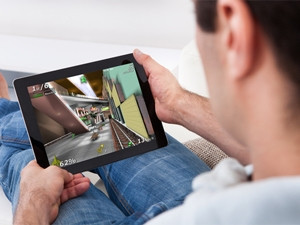 By 2019, worldwide revenue from tablet games will reach $13.3 billion - a threefold rise on the 2014 figure of $3.6 billion.
This is according to recent research by market analyst firm Juniper Research, which highlights growth will be fuelled by a number of key factors, including improved storage capacity of devices, better graphical capabilities, increasing mobile broadband penetration and consumers' preference for convenience and ubiquity.
The report, Mobile & Handheld Games: Discover, Monetise, Advertise 2014-2019, also found the next year could be critical for smaller, independent games developers.
Juniper Research believes that in marketplaces now containing over one million apps, greater funding would be required to optimise the opportunity to achieve consumer awareness, and suggests crowdfunding would represent an increasingly popular option.
According to the analyst firm, there will be strong growth in the monetisation of smartphone games across emerging markets, with carrier billing deployments increasingly facilitating storefront payments in countries with lower banked penetration rates.
It claims that with micro-apps now being embedded in messenger services, these may serve as an additional delivery channel for games in the medium term, stimulating further growth.
The report also notes advertisements are becoming increasingly key in revenue-generation, as only about 6% of mobile games will be paid for at the point of download in 2019, adding that diversified gaming offerings have resulted in a sharp uplift in the scale and session length of social/casual games among wider demographics.
"The genre that attracts the most players today is social/casual games," said Eva Hunyadi, Juniper Research analyst, in an interview with ITWeb.
She explained these games can be played anytime, anywhere and generally offer a fun and casual pastime activity without the need for the user to immerse themselves in any game specifications.
Even though the growth in tablets is staggering, Hunyadi believes its impact on other game platforms, such as the PC, will not be meaningful in the foreseeable future.
"Many smartphone games can be played on a PC as well, while the popularity of PC games, especially massively multiplayer online games, will remain relatively stable over the next years," she said.
According to Hunyadi, the growth of tablet games in emerging markets will be moderate as device penetration in these regions is still low and the expected increase will not be significant enough to allow the tablet to elevate as a popular choice for gamers.
"Gaming on any platform, including mobiles, tablets, PCs and consoles alike, attracts many people all around the world as they offer a previously unseen variety of choices to large audiences. New technology, increased processing powers, as well as the emergence of online storefronts and rising smart device penetration rates provide new and affordable way of entertainment to many. Also, games nowadays are highly social, allowing friends and online communities to share their game experience."
She said although the dominance of the free-to-play business model in mobile games required many players in the game industry to rethink their strategies, app store statistics show games are still the most popular apps and the most likely category to be paid for at the point of download.
"Designated game devices still serve a large community of gamers, who generally spend significantly more on their favourite games than their mobile player peers, and the growing popularity of platforms such as Twitch signals that the industry is set for further growth."