Apple's Maps get icy reception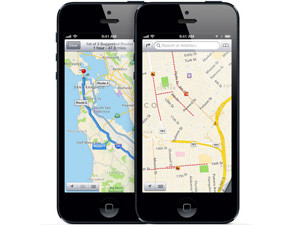 The latest version of Apple's mobile operating system, iOS 6, became available for download yesterday - bringing a number of new features to iOS devices, including Apple's own Maps app.
While iOS 6 promises 200 new features, including Facebook integration and an improved Siri service, one feature that is not getting a lot of praise is the new Maps app. Maps replaces Google Maps in iOS and, if initial reviews are anything to go by, the consensus is that Apple's service falls (far) short of Google's offering.
To create the new Maps application, Apple has partnered with a number of companies, including TomTom and Waze, in order to provide traffic data. Speaking to Business Insider, Waze CEO Noam Bardin was hardly complementary about the new application. "Apple went out and partnered with the weakest player. They're now coming out with the lowest, weakest data set and they're competing against Google, which has the highest data set.
"What's going to happen with the Apple maps is that you're literally not going to find things. When you do find them, they might be in the wrong place or position geographically. And if you do have it, the route to it may not be the optimal route."
According to Bardin, many mobile app developers have approached Waze to integrate the company's maps into their apps rather than using Apple's. "They're saying many things that used to work on Google don't work on Apple. Going forward now, we're going to see this around maps; it's the question of how fast Apple can work with their partners to update the data and how good the user experience will be."
Entrepreneur and tech commentator Anil Dash also wrote in a post on his blog: "Apple's made a new product that actually is pretty, but dumb. Worse, they've used their platform dominance to privilege their own app over a competitor's offering, even though it's a worse experience for users. This is the new Maps in iOS 6."
The main criticism levelled against the Maps app is that it does not include the public transit data users have become accustomed to using in Google Maps. According to Dash, features like venue search and directions are also unreliable.
"Apple made this maps change despite its shortcomings, because they put their own priorities for corporate strategy ahead of user experience. That's a huge change for Apple in the post-iPod era, where they've built so much of their value by doing the hard work as a company so that things could be easy for users," says Dash.
Other tech commentators such as John Gruber have, however, defended the new Maps app, saying: "You need to collect usage data to improve your data. The only way for Apple to get from here to there is to release what they have now and improve the data as millions of people start using it."
It has also been noted that Google will lose a significant amount of usage data with the rollout of iOS 6. When asked if Google will introduce a standalone Google Maps app for iOS, the search giant issued a statement saying only: "We believe Google Maps are the most comprehensive, accurate and easy-to-use maps in the world. Our goal is to make Google Maps available to everyone who wants to use it, regardless of device, browser, or operating system."