Cape Town commits to boost ICT skills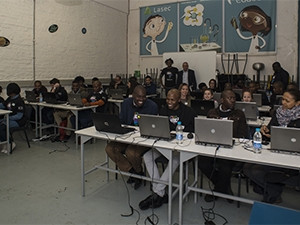 A group of 44 students selected from more than 350 applicants will undergo an intense 12-week training programme in MIT's software programming language, Scratch.
On Monday, the City of Cape Town announced the start of the orientation programme for the first group of Western Cape Skills for Africa students who will receive training in scarce ICT skills.
"We committed to promoting economic growth and to creating a city of opportunity, especially for our youth. The intense training in MIT Scratch will help this group of young people to think creatively, reason systematically, and work collaboratively - all of which are essential skills for life in the 21st century," said the city's mayoral committee member for corporate services and compliance, councillor Xanthea Limberg.
According to the city, in addition to the training in this specific software programme, the students will be able to act as trainers for Africa Code Week and once they graduate the city will offer employment to 15 graduates.
To enable this ICT training programme the City of Cape Town turned to long-time partner, software and technology solutions company SAP Africa.
The SAP Skills for Africa programme is an ICT and business skills course and this first Cape Town chapter will take place from the end of June to September. The course also incorporates essential business and soft skills training that will see the graduates armed with a formal SAP Academy accreditation, according to the city.
"We need closer collaboration and more such partnerships to train our young generation for our city, our country at large and now even for the rest of our continent," said Limberg. "It is about creating economic opportunities for our young people beyond the boundaries of our cities."
"Many education and skills development initiatives have been introduced across Africa over the years, but it is key to link skills development to job creation through internships, resulting in jobs for these talented individuals," added SAP South Africa MD, Lawrence Kandaswami. "In a developing economy such as ours, a digital education isn't accessible for all. What we see is a cavernous gap between the education that young people are receiving and what the employment market needs. Critical to the success of the SAP Skills for Africa programme is collaboration and we are delighted to be partnering with the City of Cape Town and Western Cape business."
Once-in-a-lifetime opportunity
"This is a great opportunity, especially for the less privileged to acquire these skills because it is expensive to enroll for them at any other institution and here it's free", says Talent Chapwanya who is one of the 44 selected students and also a current BTech IT undergraduate.
Another student, Nobukhosi Dladla says initiatives like this "really empower young people". "The first thing that you are asked for when applying for any Job is certification. If you have the relevant documents to prove your skillsets you are in a better position", says Dladla.