App mayhem in the Kruger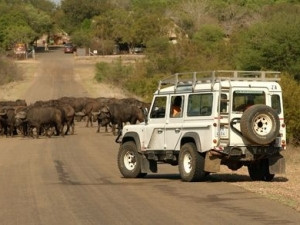 Mobile applications are causing mayhem at Kruger National Park, one of Africa's biggest game reserves.
South African National Parks (SANParks) says the introduction of mobile applications designed to share information on interesting animal sightings in the national park has become a major cause for concern.
The apps share information between tourists on where elephants, lions, leopards and other animals have been found, allowing other users to drive quickly to the scene.
Some of these mobile applications include Latest Kruger Sightings, which allows users to share their wildlife sightings, in real-time, with other visitors in the game reserve and also users worldwide. Others apps are All-In-One Kruger Park App, Park Spotter Africa, etc.
SANParks is now exploring a ban or restriction on these apps in Kruger National Park and other parks around the country.
It notes the rise in the use of these applications has resulted in an increased rate of lawlessness in the parks, including speeding, congestion at sightings as well as road kills caused by guests rushing to and congregating around these sightings.
There has been an increase of accidents in Kruger National Park of late. A cheetah was recently knocked down by a motor vehicle in the famous park, among other incidents. In April, three people were killed in a taxi accident in the game reserve.
Full speed ahead
SANParks' managing executive for tourism development and marketing, Hapiloe Sello, says SANParks has been inundated with scores of customer complaints emanating from the use of these mobile applications.
According to Sello, since the arrival of these mobile apps, authorities have received a considerable increase in reports of speeding, road kills as well as road rage incidents at sightings.
"As an organisation, we appreciate the fact that technology has evolved and that guests are taking advantage of it; however, this is compromising the values of good game viewing in national parks."
She says SANParks holds a leading position globally in the conservation of bio-diversity and the management of eco-tourism. It would, therefore, be regrettable for SANParks to turn a blind eye to trends that reverse the gains made in these fields, she notes.
"Most guests appreciate the leisurely drive through in the parks and the potential reward of a good sighting as a key element of the visitor experience. Therefore, the usage of these mobile applications is in direct contradiction to the ethos of responsible tourism espoused by SANParks.
"We, at SANParks, discourage the use of these mobile applications as they tend to induce an unhealthy sense of eagerness for visitors to break the rules, and we are exploring legal mechanisms to curtail the use of sightings apps," Sello says.
Hide and seek
There were mixed feelings on social media over the use of apps in game reserves. In a Facebook comment, one user said: "Apps don't make people speed, people speed. Guns don`t kill people, people kill people.
"The apps are not the problem, how they are used, that is the problem. Get a time delay on the sightings, don't give direct locations, but rather a shot in the dark of an area. Don't share sightings of certain species, but rather have riddles or use games to make people figure out what is in the area. Be creative with these apps.
"The same people that are abusing the apps will not go through the effort to figure out the riddles, clues and hints. This is just a thought..."
Another user commented: "Personally, this type of app is not for me. A big part of my enjoyment of the park is the excitement of trying to spot the wildlife, the next important aspect for me is also the peace and tranquillity of the park, so I will never want to go where the masses are.
"The third most enjoyable aspect of the park is that while searching for the big five with eagle eyes, you get to see all the beauty in-between and, therefore, rushing from one sighting to another has zero appeal for me."