Paperight, Riso Africa empower schools to print their own textbooks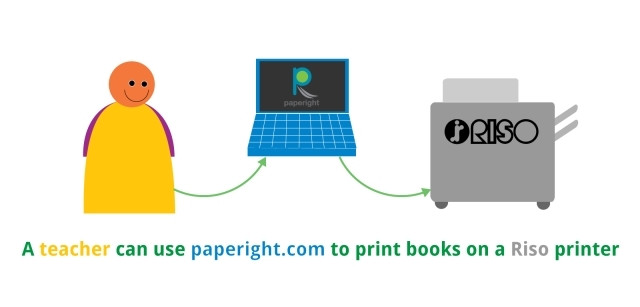 Paperight and Riso Africa are making it easy for schools to print their own textbooks.
Despite the efforts of publishers and government, many schools still don't receive enough textbooks for learners. And many matrics have no easy access to past exam papers and study guides for revision. Speaking to the Mail & Guardian recently, one teacher explained: "In my 12 years of teaching in Senekal, there has not been a year in which learners had all the textbooks they needed. This is why the system continues to produce learners who can't read and write."
By empowering schools to print their own textbooks, Paperight enables teachers and parents to take action themselves. Schools with a paperight.com account can download and print books as needed, for instance when topping up shortfalls in setwork books or providing learners with extra study guides.
Printing learning materials through Paperight is completely legal. "Publishers really want to solve the problem of access to books in South Africa," explains Arthur Attwell, founder of Paperight. "So they allow our network of schools and copy shops to print out books in return for a small licence fee."
Working with Riso, that possibility becomes even more attractive. "Riso and Paperight are sparking nothing less than a revolution," says Sonia Anderson, Marketing and Environmental Manager for Riso Africa. "Our ComColor machines let schools print out textbooks for less than their retail price, bound and in full colour. A 600-page textbook prints and binds in six minutes.
"We're also excited about working with Riso because of their environmental pedigree," says Attwell. "Riso machines require very little power, making them among the greenest in the world. They'll even run off a UPS, making them perfect for schools where electricity is unreliable."
Under the terms of the Paperight deal, Riso will contribute towards the publishers' licence fees on behalf of schools that use their machines. Schools that enter into a contract with Riso Africa will receive a prepaid paperight.com account, which they can use to legally print books, including study guides and past matric exam papers. Paperight already offers more than 1 700 different books, including titles from Oxford University Press and Cambridge University Press.
In February, Paperight was officially congratulated by Parliament, whose endorsement "acknowledges the importance of making published works easily accessible to millions of people throughout Africa; and... encourages publishers to register with Paperight in making their works accessible to all".