Deal will boost SADC airspace surveillance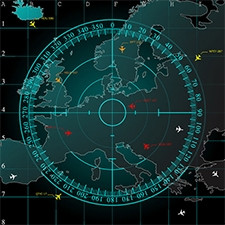 Global air traffic surveillance company Aireon has inked an agreement with SA's state-owned company Air Traffic and Navigation Services (ATNS), to jointly develop the use of space-based automatic dependent surveillance-broadcast (ADS-B) data throughout the SADC region.
Aireon's space-based ADS-B system enables airlines and other aviation users to precisely track the location and position of aircraft anywhere in the world, in real-time.
ATNS is a South African state-owned company established in 1993 in terms of the ATNS Company Act, to provide air traffic management solutions and associated services on behalf of the state. ATNS is responsible for air traffic control in approximately 10% of the world's airspace.
Last year, the companies entered a deal for the air traffic surveillance of the Johannesburg Flight Information Region (FIR) and the Cape Town FIR.
The latest regional commercialisation agreement will establish the framework for facilitating the use of space-based ADS-B data in the SADC region.
The deal will also leverage ATNS's role in the SADC as the operator of the regional VSAT network to distribute space-based ADS-B data to remote locations over satellite links, thereby extending the surveillance capabilities to regions where ground-based communications are prohibitive.
In addition to air traffic surveillance, ATNS will work with regional air navigation service providers (ANSPs) to collectively use space-based ADS-B data to develop a regional flow control solution that will complement the existing SADC VSAT network.
According to ATNS, regional flow control will result in substantial cost-savings and operational benefits to the airlines and ANSPs in the region.
"The signing of this commercialisation agreement marks another milestone towards delivering global air traffic surveillance through space-based ADS-B, while fortifying the strategic partnership between Aireon and ATNS," says Don Thoma, CEO of Aireon.
"For the first time, the entire region will have access to real-time air traffic surveillance data, which in this region - given its vast land mass and oceanic airspace - will become a driving force for enhanced safety and operations."
Thabani Mthiyane, CEO of ATNS, adds: "ATNS has always ensured regional co-operation between ANSPs is promoted, enhanced and sustained.
"We now have an opportunity to bring the benefits of this technology to our region to leap-frog the industry. Africa has some of the most remote regions in the world, making this technology immensely valuable for those with limited infrastructure. We will now give them the option to have total air traffic surveillance, without the need to build anything on the ground. This might be a game-changer for the region."