MTN strike 'imminent'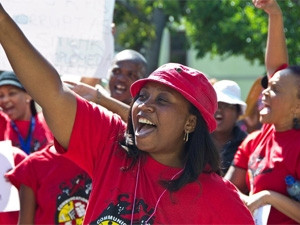 The Communication Workers Union (CWU) says a strike is looming at MTN, as the company and union fail to see eye-to-eye on the planned outsourcing of MTN's call centres as well as a previous agreement to convert temporary staff into permanent roles.
"It is becoming clearer and clearer that a strike is imminent at MTN,"CWU general secretary Aubrey Tshabalala told ITWeb in a telephonic interview.
MTN says its management will meet with CWU leadership on Tuesday, 23 August.
"The scheduled meeting follows MTN SA's announcement that it will outsource some of its call centre facilities, and the subsequent engagements that MTN SA leadership had with employees on this matter across the country," the telco says.
But Tshabalala believes the meeting is not soon enough and "shows there is no sense of urgency from MTN, nor are they worried about the ongoing labour unrest in that company".
"You can see the level of arrogance and incapacitated management to engage on labour issues led by [MTN SA CEO] Mteto Nyati and newly appointed [chief HR officer] Nhlanhla Qwabe, who seems to be thinking arrogance is the way out of dealing with issues. Clearly, there is a management that is incapacitated to engage meaningfully on labour issues," he says.
However, Qwabe says MTN "will continue to have discussions in good faith with integrity and transparency with the CWU in a bid to reach an amicable resolution to the issues raised".
A key issue up for discussion is the union's view that MTN failed to uphold an agreement reached in July 2015, that it would appoint all qualifying casual workers into full-time positions.
"What they are trying to do now is to avoid that and go for outsourcing, even before they convert workers to permanent positions, so that they can have extremely cheap labour going forward," says Tshabalala.
"This is part of the strategy that has been used by Vodacom and Telkom before; that when they want to retrench, they don't go direct but go via the route of outsourcing and then ultimately retrench workers. All that we are demanding is to follow the law in terms of outsourcing; that there must be an extensive consultation with the labour involved in that particular company."
Qwabe says MTN SA will continue to use a number of internal platforms "to constructively engage its employees on the planned adoption of the hybrid call centre model". This includes a meeting scheduled for today, between employees and MTN SA leadership.
MTN is trying to avoid another strike after CWU members spent almost two months on strike between May and July last year.
MTN SA said in a media statement that it received a memorandum of demands from the CWU yesterday, but Tshabalala told ITWeb this was not true, as the union had informed MTN of its plans to interdict "this bogus process that they are entering into".
"We try to be reasonable; we have told them our intentions but if they do not want to listen we cannot wait forever. If they do not want to listen, obviously we will have to interdict them. Yesterday we informed them of our intention and if they do not respond by 12 today we will have no option but to do so," says Tshabalala.