Cold series of cabinets (POLAR RANGE of EV: Environmental Server Cabinets)
CPS Technologies introduces the perfect air-conditioned server cabinet for harsh environments, as there are environments that require a solution to protect servers from harsh external factors.
These sectors include mining, power plants, dusty workshops, etc. The POLAR cabinet range is ideal for these harsh areas.
Heavy gauge steel and sealing with continuous air cushioned rubber gaskets ensures the cabinet is dust-proof, waterproof and well protected. The front and rear doors are secured with a three-point locking system.
Our cold series of cabinets are perfectly suitable. The air conditioned units are fitted with a condensate dissipater perfect for production environments.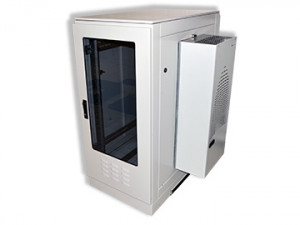 Product specs:
Width: 600mm & 800mm
Depths: 1 000mm, 1 200mm
Heights: 25u, 34u, 38u, 42u, 47u
Loading capacity: 1 200kgs
Materials: High-quality cold rolled steel
Thickness: Cabinet: 1.6mm mild steel
Mounting rails: 2mm mild steel
Doors and side panels: 1.6mm mild steel
Side panels: Removable
Doors: Front and rear
Colours: Black-RAL9004 White-RAL7035 Grey-RAL7032, 7
Surface finish: Degreasing, pickling, phosphating, tank dip system powder coating
Cable entry: Glands provided in base plinth
Get the most out of your server room storage with our server racks and accessories. Our range offers a stable and durable platform for your valuable network and AV equipment.
We can help you:
* Neatly store and secure equipment;
* Ensure easy access and monitoring;
* Manage cooling and airflow issues;
* Manage cable issues to reduce clutter; and
* Fit your equipment properly in its space with different size and mounting options.