TomTom Maps, Tracker support Paul Steyn's walk across SA for amputees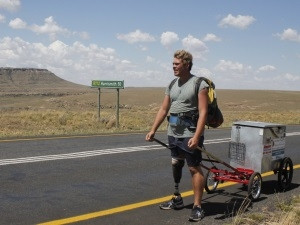 As Paul Steyn tackles the final stretch of his epic 7 000km fundraising walk across South Africa, his progress is being live-tracked and made viewable online through a partnership between TomTom Maps and Tracker.
Steyn could never be called an armchair activist. On 3 August 2015, he set out to walk through all nine South African provinces over the course of 16 months, with the main purpose of assisting disadvantaged amputees to receive prosthetic limbs.
Having raised R450 000 to date, Steyn has both raised awareness around physical disabilities and directly assisted a number of amputees with much-needed prosthetics.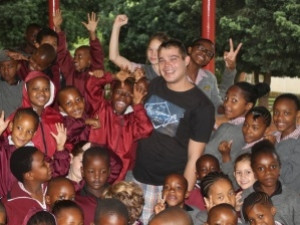 Steyn is one of the best-suited people to spearhead such an initiative: not because he's the fittest or most experienced, but because as an amputee himself he is intimately familiar with the unique challenges faced in this community.
"Very few people realise the great need out there for prosthetic limbs, especially among the poor," explains Steyn. "Where other non-profits in sectors like education and feeding schemes can help hundreds, if not thousands, of people with R100 000 in donations, we can help one, maybe two, amputees."
Walking through the Northern Cape in September and reaching the Western Cape in October, he is on schedule to reach his current campaign's finish line in Cape Town on 3 December.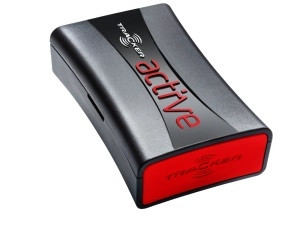 By September 2016, Steyn had racked up deeply impressive statistics: 4 900km already walked, with 112 towns and cities visited (including delivering motivational talks at 92 schools and 30 other organisations).
"The diverse natural beauty of our country and the friendliness of the people, from all walks of life, are really special to me," adds Steyn. "I love what I do and to be able to make a difference in the lives of others: it is what keeps me going."
The registered non-profit organisation that he has established, The Paul Steyn Foundation, has been able to assist four amputees along Steyn's route so far with prosthetics, and facilitated assistance for another two amputees with donated and sponsored prosthetics.
TomTom Maps and Tracker have supported Steyn's campaign from its start, through the provision of a GPS-enabled tracking device (a TrackerActive unit) that he carries with him, which reports his position to TomTom Maps' purpose-built online tracking Web site: http://sponsor.tomtomsa.co.za/PaulSteynFoundation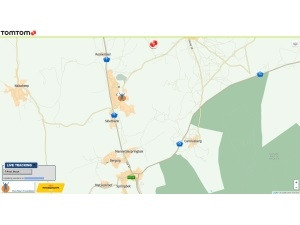 "I am extremely grateful to TomTom Maps and Tracker for the sponsorship," says Steyn. "It gives me a sense of security on the road and is a boon to those working behind the scenes who can now track me wherever I am on the road."
"TomTom Maps is proud to support Paul's incredibly worthy cause, and we wish him every success in the final months of his journey," says Etienne Louw, TomTom South Africa's Managing Director.
Tracker's Executive for Product and Marketing, Michael du Preez, echoes these sentiments: "Tracker's slogan is 'To Care is to Protect', and we admire Paul's determination to protect and care for South Africa's physically disadvantaged."
For more information on Steyn's journey or to offer financial support, please visit www.paulsteynfoundation.org.za.