Passenger drone to be tested in Nevada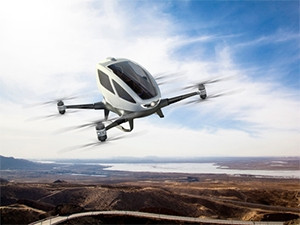 The Ehang 184 Autonomous Aerial Vehicle, named "the world's first passenger drone," by a number of onlookers, has received clearance for testing in Nevada, in the US.
Chinese parent company Ehang secured testing permission through a teaming agreement with the Governor's Office for Economic Development (Goed) and the Nevada Institute for Autonomous Systems. The agreement provides for testing, training, and development at a Nevada's FAA UAS test site.
The Ehang 184 was revealed at the Consumer Electronics Show in Las Vegas in January, and can carry a human passenger weighing up to 100kg for up to 23 minutes, at an average speed of 100km per hour, according to a diagram of the vehicle published by Ehang.
The testing agreement "is a big step for EHang 184 to move forward to government regulatory approval... which will lay the foundation for its commercialisation and building up the aerial transportation ecosystem in the future," said Huazhi Hu, Founder and CEO of EHang.
The company envisions a future containing autonomous passenger drones that function very similarly to proposed self-driving cars, allowing passengers to merely enter a destination and then sit back until they arrive.
"I personally look forward to the day when drone taxis are part of Nevada's transportation system," remarked Tom Wilczek, aerospace and defence industry specialist at Goed.