Review: Acer C205 LED projector
Acer made the C205 LED projector with entertainment and business in mind.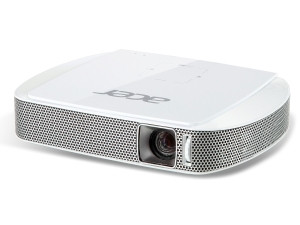 I have always perceived a projector as a device that is mounted on the ceiling of a conference room. However, the Acer C205 LED projector - a portable, lightweight device that is smaller than an A3 book - left me thinking otherwise.
Look and Feel
What I loved most about the projector is how light and portable it actually is. I did not have to think twice when carrying it to a friend's apartment to watch movies.
The projector weighs 302g and fits in the palm of a hand - which is ideal for travelling business people who need to make presentations on the go.
I would say Acer made this projector with an entertainment and business combination in mind. By using the device to watch movies, I felt like I was watching it at the cinema. And just like at the cinema, the room had to be dark to get a clear picture. Also, the whiter the wall, the clearer the picture. The projector was easy to use; all I had to do was connect to the laptop, flick the power switch and start watching.
Connectivity
The projector has an HDMI port for connecting to PCs, game consoles and DVD players. It has an integrated battery which makes connecting and disconnecting for transporting easy. It also features inbuilt 2W speakers that help generate clear sound in small rooms. However, one cannot rely on these speakers for a larger audience; for instance, in an auditorium.
It also comes with an HDMI cable, a little pocket bag to protect the projector from being scratched, and a battery charger. If the HDMI cable is connected to a media device, it can be detected automatically.
Acer says the C205 has an LED lifespan of 20 000 hours in standard mode and up to 30 000 hours in eco mode, which is dimmer but helps the battery last longer. The C205 projector, through its integrated battery, can operate for at least two hours without being connected to a power source. To further conserve power, the projector automatically shuts down if it doesn't receive a signal input for a time period predetermined by the user.
The inbuilt air vents help protect the projector from overheating; making it safe to use whether it's connected to a power source for a long time or not.
Performance
The projector does well in smaller rooms, with the screen showing a native aspect ratio of 16:9, which gives the user a sense of being in a movie theatre. The quality of the data image is decent but it is brought down by the poor text quality.
[REVIEW]One of the cool things about the projector is its ability to display straight from a smartphone or tablets using the HDMI MHL cable. However, not all smartphones are MHL-ready. MHL is an industry standard for a mobile audio/video interface that allows users to display the content on their smartphones, tablets or other portable consumer electronics devices to a larger screen.
Verdict
To get a really good quality picture, the room has to be dim and the surface as white as possible. This projector is not made for a big boardroom. It is a device that should be bought by sales people who travel a lot or for people who use small home offices.
I would also recommend it for consumers who like to watch video content in a pseudo theatre environment.
The Acer C205 sells at R4 999 which a bit steep but considering the versatility of the device, it may well be worth it.